Etixx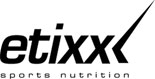 Accompany the athletes in the effort, that is why the brand Etixx has developed 5 ranges of products answering to all their needs. Endurance, Performance, Muscle Power, Recovery and Health.

By collaborating with teams and professional athletes, Etixx has developed products from quality ingredients and effective.

Endurance: Food supplement, isotonic drink and gel to enhance the long duration exercises.
Performance: Powder, food supplement, gel and bar for the good energetic functioning.
Muscle power: Food supplement and flavored powder to accompany you in the effort.
Recovery: Powder and flavored bar for a good muscular recovery.
Health: Food supplement for a supply in vitamins and minerals.
All products for Etixx