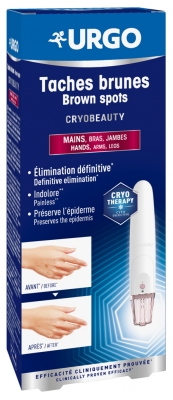 Urgo

Cryobeauty Brown Spots Hands-Arms-Legs

1 Device of Cryotherapy Box
£
30.40
Price per kg/L: £779.49

Caution
: This is a flammable aerosol product and cannot be shipped by all of our couriers. Selling this product is prohibited in the United Kingdom.
Description
Urgo Cryobeauty Brown Spots Hands-Arms-Legs is a device that allows the definitive elimination of brown spots (solar lentigines) on hands, arms and legs, by cyto-selective cryotherapy (therapy by cold). This technology allows to act particularly on the cells responsible of brown spots, while preserving the other cells of the epidermis.
Brown spots are definitely eliminated between 4 to 8 weeks after use of the device. 1 use only of 6.5 seconds is enough (provided that the brown spot is of diameter less than or equal to the diameter of the applicator).
Allows up to 20 uses.
Painless and without healing.
This product is a medical device of IIa class.
Efficacy clinically proven.
This box contains: 1 notice, 1 device, 1 applicator.
Read the package leaflet before use.
Suitable for people 30-75 years old.
Precautions to be taken during treatment:
The applicator must always be in contact with the stain until the light signal is turned off.
Never move the device during treatment.
Always keep the device in a vertical position, applicator down. The device is functional only in this position.
Apply light pressure to the skin to maintain contact between the applicator and the skin.
Apply the product in a room with an ambient temperature of around 25 ° C to optimize the performance of the device.
Get into a seated position.
Do not use this product when you are in motion.
When using this product on the hand, lay the hand flat on a flat surface for easier treatment of the targeted brown spot.
Contraindicated application areas:
All areas apart from the arms, legs and back of the hands are contraindicated and more especially on delicate and fragile skin, such as the face, neck, décolleté, palms of the hands or the arch of the feet, intimate areas , etc.
External use only, do not apply to mucous membranes.
Medical contraindications:
This product should not be used:
On birthmarks, freckles, moles, pregnancy mask (melasma) or any suspicious spot that is non-uniform in color, painful, bleeding or itchy. If all the doubts are not raised about the nature of your spots (solar lentigines or not), consult a doctor.
On brown spots over 1cm in diameter. It is therefore strongly recommended to consult your doctor.
On scars, wounds, irritations, cracks, redness, frostbite and in general any pathology or dermatological trouble.
On skin of phototypes 0, I, V or VI.
In addition to other treatments for brown spots (laser, peeling, depigmenting creams or cryotherapy at the dermatologist).
If you are allergic to gas.
In case of allergy to one of the components of the device, it is then recommended not to use it any longer and to avoid any contact with the device.
In people over 75 years old (consult a doctor first).
In diabetics, people with circulatory problems, people with allergies to cold, people with sensitivity to cold, people with Raynaud's syndrome, persons treated with conversion enzyme inhibitors( IEC) due to a very rare risk of developing pemphigus.
Cleaning and maintenance:
After having treated your brown spot (solar lentigo), clean the applicator of the device with a cotton or a slightly damp cloth or impregnated with 70 ° alcohol. In all cases, wait for the device to dry completely before using it again.
Conservation:
It is recommended to store this product in a room with a temperature between + 15°C and + 25°C.
In general, this product should be protected from lint, dust, light (including sunlight), moisture, and any source of heat, flame, sparks, or any electrical source. .
Indication
:
Cryotherapy device against brown spots on hands, arms and legs.
Cryogenic gas R-152a (Difluoroethane).
| | |
| --- | --- |
| EAN Code | 3664492001265 |
| Presentation | Box |
| Contents | 1 Device of Cryotherapy |
Latest reviews of this item
Urgo Cryobeauty Brown Spots Hands-Arms-Legs
Discover the Urgo brand
Urgo Laboratories offer their expertise to consumers to propose specific solutions. They identify the needs of care and health of consumers and bring innovative answers.

Innovation is the main concern of their strategy! From its creation, Urgo innovates especially on the traditional dressing (ready-to-use dressing, dressing with antiseptic compress, breathing dressing, dressing adapted to every motion).