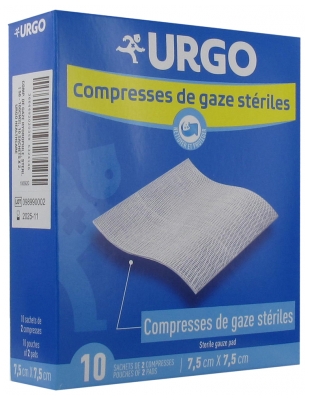 Urgo

Sterile Gauze Compresses 7,5cm x 7,5cm 10 Sachets of 2 Compresses

Until 19th July inclusive

Limited quantity

10 Sachets of 2 Compresses. Box

Caution
: Selling this product is prohibited in the United Kingdom.

Description
Urgo Sterile Gauze Compresses 7,5cm x 7,5cm 10 Sachets of 2 Compresses are compresses recommended for superficial wounds cleaning.
They allow:
Cleaning of healthy skin in the pre- and post-operative situation.
The making of dressings for the protection, compression or absorption of exudates from acute sutured wounds, post-operative wounds and superficial unsutured wounds.
Compresses dimensions: 7,5cm x 7,5cm.
Medical device.
Open a sterile sachet.
Clean and disinfect the wound and its periphery with a compress, an antiseptic solution / soap or other active principle then dry the wound with a compress. If necessary, proceed with hemostasis (stop bleeding).
Depending on the size of the wound and the amount of exudate, cover the wound with 1 or 2 compresses. Fix a tape or other means of fixation.
Renew the dressing, according to the instructions for use, 1 to 2 times a day depending on the prescription, the condition of the wound or the dressing. For the preparation of dressings, do not use more than 4 compresses per day.
Regularly monitor a wound and its area for signs of infection such as pain, redness, edema, odor or suppuration. In case of doubt or infection, contact a doctor or a nursing service.
A wound (or a cut) is considered superficial when it only affects the skin and the fat immediately underlying. If an accidental wound is more than 3 cm, it is advisable to consult a doctor, within 6 hours of the accident, who will decide whether the wound should be sutured or treated (gluing with specific surgical glue, etc.).
Single-use sterile compresses: do not reuse, do not keep compresses in an open sachet, do not reposition a compress already applied, otherwise risk of infection.
Compresses sterilized with ethylene oxide, do not re-sterilize. Check the integrity of the sterility protector before use. Do not use if the packaging is damaged.
Do not use the compresses for more than 30 consecutive days without interruption.
Keep out of sight or reach of children.
Do not use after the expiration date (indicated on the sachet and on the box).
Keep the sachets of compresses in their original box.
Do not use in case of allergy to any of the components.
Indication
:
To clean and protect.
Pure cotton hydrophilic gauze.
| | |
| --- | --- |
| EAN Code | 3664492020358 |
| Form | Compresses |
| Presentation | Box |
| Contents | 10 Sachets of 2 Compresses. |
Latest reviews of this item
Urgo Sterile Gauze Compresses 7,5cm x 7,5cm 10 Sachets of 2 Compresses
Discover the Urgo brand
Urgo Laboratories offer their expertise to consumers to propose specific solutions. They identify the needs of care and health of consumers and bring innovative answers.

Innovation is the main concern of their strategy! From its creation, Urgo innovates especially on the traditional dressing (ready-to-use dressing, dressing with antiseptic compress, breathing dressing, dressing adapted to every motion).