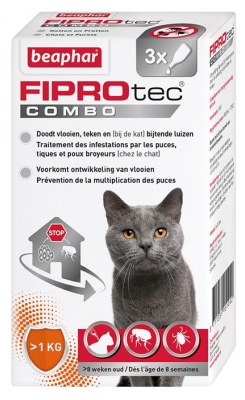 Beaphar

Fiprotec Combo 50/60mg Spot-on Solution Cats Ferrets 3 Pipettes of 0,50ml

£

10.40

Price per kg/L: £6,933.33

Caution
: Selling this product is prohibited in the United Kingdom.
Description
Beaphar Fiprotec Combo 50/60mg Spot-on Solution Cats Ferrets 3 Pipettes of 0,50ml are pipettes with fipronil and S-Methoprene recommended for the treatment and prevention of flea and tick infestations in cats and ferrets.

In cats: use against infestations by fleas alone or mixed infestations by fleas and ticks and/or grinding lice:

Elimination of fleas (Ctenocephalides spp.). The insecticidal efficacy against new infestations by adult fleas persists for 4 weeks. Prevention of the multiplication of fleas by inhibition of the development of eggs (ovicidal activity), larvae and pupae (larvicidal activity) from eggs laid by adult fleas for 6 weeks after application.

Elimination of ticks (Ixodes ricinus, Dermacentor variabilis, Rhipicephalus sanguineus). The product has a miticidal efficacy against ticks that persists according to experimental data up to 2 weeks.

Elimination of grouse lice (Felicola subrostratus). The solution can be incorporated into a flea allergy dermatitis (DAPP) treatment program when it has been previously diagnosed by the veterinarian.
By topical application on the skin. External only. 1 pipette of 0,5 ml per cat or ferret.
Hold the pipette vertically. Tap the narrow portion of the pipette to make sure the contents are in the main part of the pipette. Cut the tip of the pipette with scissors. Spread the hair between the shoulder blades until the skin is visible. Place the tip of the pipette on the skin and gently press to empty its contents on the skin, preferably at two points, one at the base of the skull and a second 2-3 cm lower. Special care must be taken to avoid excessive moistening of the fur with the product, causing a tacky appearance of the fur at the treatment site. However, if this happens, this aspect will disappear within 24 hours of application. In the absence of safety studies, the minimum treatment interval is 4 weeks. For optimal control of flea infestation, the treatment regimen can be based on the local epidemiological situation.

Indication
:
Prevention of the multiplication of fleas. Treatment of flea, grinding lice and tick infestations in cats and ferrets.
Active Substances: Fipronil 50mg, (S)-Methoprene 60mg.
Excipients: Butylhydroxyanisole (E320) 0,1mg, Butylhydroxytoluene (E321) 0,05mg.

| | |
| --- | --- |
| EAN Code | 8711231151042 |
| Form | Solution |
| Presentation | Box |
| Contents | 3 pipettes of 0,50ml |
Latest reviews of this item
Beaphar Fiprotec Combo 50/60mg Spot-on Solution Cats Ferrets 3 Pipettes of 0,50ml
Discover the Beaphar brand
Leader in veterinary care, the Beaphar brand was launched in Germany in 1942. Over the years, the company has developed a very wide range of products intended for the daily care of dogs and cats. Hygiene, specific anti-tick and anti-flea care, antiparasitic collars.. Beaphar products adapt to the needs of your animal whatever its age. On Cocooncenter, find the brand's flagship products, in particular the eye lotion for dogs and cats, the shampoo dog all coats as well as the flea collar for cats.