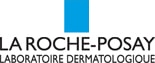 La Roche-Posay proposes a range of cares and make-up, to transform the skins every day, even the sensitive ones.

The brand became a reference in the development of products dedicated to sensitive skins.

The La Roche-Posay Spring Thermal Water is at the origin of the brand. A Spring Thermal Water with antioxidant, protective, soothing, decongestant and anti-irritant properties, entering in the composition of each care.

The La Roche-Posay products integrate dermatological active ingredients, often inspired by the last innovations in medical research.