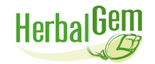 The specialist of Concentrated Gemmotherapy', the gemmotherapy is a branch of phytotherapy, that consists in using the buds properties to ensure our well-being. The HerbalGem brand develops and produces food supplements with a base of buds and plants extracts, on the form of complex or mother macerates.

Adapted to the whole family, the HerbalGem products are elaborated with a basis of fresh plants from organic farming.

Find a large range of HerbalGem food supplements for all your needs: well-being, energy, memory, joints, circulation, defences, sleep, drainage, shape and transit.