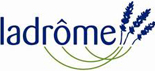 The brand Ladrôme proposes a range of products made from plants.

Located in the Vallée de la Drôme, the brand benefits from an ideal environment to collect plants with active principles (sunny climate and varied flora).

Ladrôme is a brand committed in favor of organic agriculture for the respect of environment and vegetable species. This commitment is also present in the choice of materials used to condition products.

Thanks to Ladrôme products, get natural answers to the specific needs of your organism.