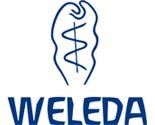 The name Weleda comes from the Celtic culture. It referred to women with the gift to know plant curative virtues and to find remedies.

A name in ad-equation with the mission of Weleda laboratories: to develop and commercialize a range of products in harmony with Human Being and Nature.

Weleda cultivates in its gardens (located in South of Alsace) its own medicinal plants, ensuring that the therapeutic potential and concentration of active principles is high.

Weleda proposes these products ranges: Baby, Deodorants, Men, Massage Oils, Oral Hygiene, Hair Care, Hands Care, Body Care, Face Care.