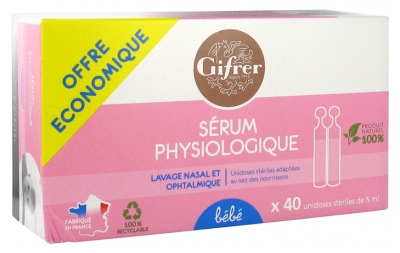 Gifrer

Physiological Serum 40 x 5ml

40 single doses of 5ml Box

£

2.10

Price per kg/L: £10.50
Item temporarily unavailable
Your e-mail address is incorrect.
Description
Gifrer Physiological Serum 40 x 5ml is a physiological serum intended for the cleaning of nasal passages of infants, children and adults:
For a daily hygiene of congested nose of infants, who cannot blow their nose and remove nasal secretions and mucus alone, in order to prevent upper respiratory tract infections and promote better breathing.
For adjuvant treatment of ENT pathologies in order to promote their relief and avoid superinfection by eliminating the excess of infected or not infected mucus, microbial agents, foreign bodies, allergens...
Product 100% natural.
Made in France.
At the following dosages, use a single dose of 5ml:
1 to 3 times a day for daily hygiene.
2 to 6 times a day for 5 to 7 days for acute ENT pathologies such as colds, nasopharyngitis ...
1 to 3 times a day (up to 3 months of use) for chronic ENT pathologies such as chronic rhinosinusitis, sinusitis, allergic rhinitis ...
Ophthalmic wash:
Physiological serum is intended for adults, children and infants for washing:
Eyelids and corner of the eye as part of daily hygiene.
Of the eye in case of discomfort related to the presence of dust.
From the eye as an adjunct to the treatment of conjunctivitis, as recommended by your doctor.
Instructions for use: opening of the single dose:
Open the unidose by turning the plastic cap.
Gently squeeze the unit dose to get the dose you need.
Directions for ophthalmic use:
For daily hygiene, clean using a sterile compress soaked in Serum. For washing in case of conjunctivitis or discomfort, instill directly into the eye then wipe with a sterile compress. Change the compress for the other eye.
Precautions for use:
Before use, check the integrity of the single dose. If it is tampered with, opened or punctured, do not use it and throw it away immediately.
Single use, do not inject. Do not use the same single dose for several people and for different purposes. Do not keep the single dose after opening, throw it away immediately after use. If the single dose is reused, there is a risk that the solution will no longer be sterile. The serum should be used under medical advice in premature babies and people prone to severe dry eyes or reduced corneal sensations. If your doctor has prescribed a medication for nasal or ophthalmic administration, the serum should be used before its application and not after, in order to avoid its elimination. Remove contact lenses before ophthalmic use, wait 10 minutes before putting them back. Keep out of the reach of children. Special attention should be paid to the plastic cap. Do not exceed the date of use clearly stated on the packaging and the single dose. Single-dose containers to be stored away from heat and in the case.
Unwanted and bothersome effects: Rare sensations of irritation and discomfort are possible. In infants, instill the product in the nose with the minimum of pressure in order to avoid any risk of contamination of the middle ear.
Do not use the single dose if damaged.
Do not inject.
Indication
:
Nasal and ophtalmic washing for infants, children and adults.
Sodium Chloride at 0n9g, Purified Water q.s.p 100ml.
| | |
| --- | --- |
| EAN Code | 3401042933641 |
| Form | Serum |
| Presentation | Box |
| Contents | 40 single doses of 5ml |
Latest reviews of this item
Gifrer Physiological Serum 40 x 5ml
Discover the Gifrer brand
Gifrer brings efficient solutions to prevent and treat daily pain of the whole family. Gifrer proposes specific solutions dedicated to babies, children, mothers-to-be, and mothers.

The values of Gifrer are: authenticity (brand known for more than 100 years for the quality of its products), tradition (traditional ingredients with known efficiency), proximity (products range to help the family daily) and loyalty.