How to choose the best serum for your face and hair?
Written by Marion, Aesthetician/Cosmetician | published on | updated on 02/06/2020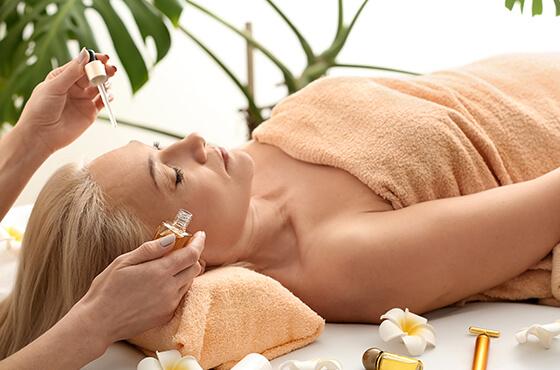 The last few years have seen the emergence of a vast array of facial and hair serums to enhance the range of beauty products available. What are they for? What are their effects?
What are serums?
A serum is a new kind of skincare product which first appeared a few years ago. Unlike lotions, which are liquid but contain few active ingredients, or milks and creams, which are thicker, serums are usually fluid and contain a very high concentration of active ingredients.
The range of facial serums on the market is very wide because they are designed to treat specific problems. There is no one ideal facial serum. Instead, there are effective serums to treat your skin according to its current needs, such as anti-ageing, hydration, oily skin, blotchiness or a dull complexion.
Unlike a cream which will sit on the surface of the skin, forming a protective barrier, a serum will penetrate more deeply into the epidermis and act on the cells there. It should therefore be applied to clean, make-up free skin before using any other product. You can follow up with a moisturising cream to complement its effectiveness.
Given the concentration of the active treatment agents contained in serums, they are not designed to be used all year round. Instead, they should be used as a course of treatment lasting between one and three months.
What about hair serums?
Do you have coarse, dull, tired, damaged or flyaway hair? Are you experiencing hair loss and slow or insufficient growth? Hair serums have been designed to treat these types of issues. There are two main groups of serum, with some falling into both. Serums for dry hair are specifically designed to treat the hair from root to tip and have a smoothing, protective effect. They restore the hair using a wide range of ingredients that make it shinier and reduce frizz. Other serums get to work on the very root of the problem by providing nutrients to the scalp, encouraging faster growth and stronger hair.
Anti-ageing serums
Choosing an anti-wrinkle serum The best anti-wrinkle serums contain ingredients to tackle both wrinkles and slackening skin. There are numerous formulations containing plant extracts, such as aloe vera or gingko biloba, rehydrating hyaluronic acid, collagen, anti-oxidants or vitamin C which is involved in cell production. They promote cellular regeneration and combat dry skin. However, serums do not offer sun protection and you therefore need to apply a high-factor sunscreen if spending time outside. Ultra-violet rays are partially responsible for skin ageing.
Our selection of anti-aging serums
Serums for dry skin
Treatment with an effective hydrating serum can be hugely beneficial for extremely dry skin which needs more than a simple moisturising cream. These serums are rich in ingredients that water retention in the skin, particularly hyaluronic acid. This is available in two varieties. High molecular weight hyaluronic acid does not penetrate deep into the skin, but helps to create a protective film to prevent water loss. Low molecular weight hyaluronic acid will penetrate further into the epidermis and stimulate the support cells and the production of collagen, while at the same time improving hydration. Serums for dry skin often also contain plant oils or glycerine which help to protect the skin's natural hydrolipidic film.
Our selection of moisturising serums
Serums for oily skin
Serums for oily or combination skin have a non-greasy texture and contain mattifying agents, ingredients to help close the skin's pores, purifying ingredients or sebum regulators. These may be plant extracts, such as lemon or sage, or trace elements like zinc or those found in spring water. Avoid products that strip the skin, as they stimulate sebum production while also destroying the skin's protective film.
Other types of serum
There are many other types of serum to treat the full range of skin complaint. For instance, some are specifically designed for the fragile, delicate skin around the eyes. There are also age-spot serums containing certain fruit acids or anti-oxidants such as resveratrol which can reduce the colour of the brown marks caused by exposure to sunlight and skin ageing. There are also healing serums which use a range of plant extracts to promote cellular regeneration, even out the skin tone and heal the scarring caused by injuries or acne more quickly.
Choosing a facial serum.
As you have seen, there is a serum for every type of skin, and this might change depending on the issues your skin experiences. You therefore need to change your serum according to the current needs of your skin. Whether you are looking for the best anti-ageing serum to reduce the signs of skin ageing, or the best hydrating serum to improve the feel of your dry skin, Cocooncenter has a huge range of products carefully selected for their quality and effectiveness.
Apply the serum in the evening after carefully removing your make-up and before your night cream, and/or in the morning after cleansing thoroughly and before applying your day cream. As serums are highly concentrated, a few drops are all you need. Warm the serum slightly between your hands and apply gently without excessive rubbing, from the neck to the cheeks and from the cheeks to the temples. Wait a short time before applying your moisturiser.
For radiant, healthy skin, take advantage of the latest beauty saviours - facial serum and hair serum.
Three key takeaways in relation to serums:
There is a serum for every skin! Start by identifying your main skin complaint and choose the most appropriate serum, without mixing products designed for different problems.
Serum is designed to penetrate deep into the epidermis and nothing should stand in its way! Bare skin that has been thoroughly cleansed will absorb it easily.
There is no point in using a serum the whole year round. A one-month treatment when the seasons change or a three-month treatment to tackle a specific problem is all you need. Then take a break!
Regarding the author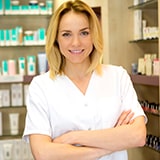 Marion
Aesthetician/Cosmetician
Certificated in Aesthetic/Cosmetic, Marion is specialized in dermo-cosmetics cares and in make-up. Through "My well-being and beauty journal", she helps you to take care of your face and of your body by providing you her beauty advices.