Liniment lotion:
your baby's beauty routine
Written by Paul Musset, Doctor in Pharmacy | published on | updated on 22/03/2021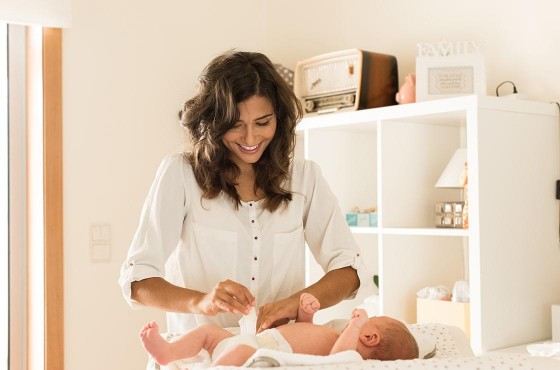 Used primarily in childcare products, liniment is a must-have product for the changing table. It has become part and parcel of daily babycare for many French families who turn to its myriad benefits for bathing, moisturising, soothing sore, red patches and treating and preventing cradle cap. How is oleo-calcareous liniment produced? Why and how should it be used? In this article, we shed light on the qualities of this baby skincare saviour.
What is liniment?
A natural preparation based on olive oil and limewater
Liniment is a lotion primarily used for cleansing babies' bottoms which are often irritated by nappies, frequently as a result of acidic urine that causes nappy rash.
Oleo-calcareous liniment is a natural preparation produced from limewater and vegetable oil (usually olive oil). The perfect blend of these two ingredients (in equal parts) is behind liniment's effective cleansing and soothing action:
Limewater is produced using calcium hydroxide and has a rebalancing effect. With its alkaline properties, it allows skin irritated by acidity to recover its natural pH;
Vegetable oil has protective properties. By creating a moisturising layer on the skin, it protects against the discomfort caused by acidic urine.
In addition to these primary ingredients, some formulations also include nourishing and moisturising ingredients such as sweet almond oil.
What form does liniment take?
Natural liniment is a yellowish-white emulsion and looks like a fairly thick cleansing lotion. It has the advantage of not leaving the skin feeling greasy.
Which cleansing product should you choose for your baby? Liniment: safe and simple cleansing
The chemicals present in cleansing lotions are not well-tolerated by a baby's particularly fragile skin. Liniment's natural composition fully respects your baby's delicate skin and reduces the risk of reactions.
Is baby liniment lotion similar to a cleanser? Not entirely. While liniment lotion is a handy way to cleanse your baby's bottom, there is much more to liniment than its cleansing properties. It also protects your baby's skin by creating a protective barrier. It should therefore not be rinsed, making it all the more convenient if there is no water to hand when changing your baby's nappy.
A complementary cleansing product
As liniment does not need to be rinsed away, you might be tempted to use nothing else to cleanse your baby's skin. However, while liniment is a useful product for removing dirt, you should remember that it does not eliminate all bacteria. We therefore advise that you use it as a complementary cleansing product.
The benefits of oleo-calcareous liniment: for mother AND baby
Protecting your baby's bottom from irritation
Oleo-calcareous liniment is primarily used to clean your baby's bottom during nappy changes. It soothes any redness caused by nappy rash and strengthens the cutaneous barrier by leaving a valuable protective film which prevents the discomfort caused by urine or stools.
Moisturising your baby's face
Cleaning your baby's bottom is just one of many practical ways of using liniment. Its natural composition based on olive oil makes it a great facial moisturiser for your baby after their bath, without causing skin reactions. Oleo-calcareous liniment is also useful for wiping younger children's faces and hands after eating.
Preventing cradle cap
Cradle cap is a common complaint for infants. Usually found on the top of the head, it is the result of excess sebum and forms thick, unsightly patches on the scalp. Because it contains oil, liniment can be used to remove cradle cap easily and painlessly from your baby's scalp.
Treating dry skin conditions
Oleo-calcareous liniment is not just for the very young. It has something to offer the whole family. For instance, it is a fantastic way to treat dry skin. It effectively combats eczema and other dry skin conditions and could quickly become your strongest ally, thanks to the soothing, moisturising care delivered by the rich, hydrolipidic layer it leaves on the skin.
Removing mummy's make-up
One of liniment's hidden talents will be especially relevant to mums: it makes a great make-up remover! Its natural composition means that it is suitable for the most sensitive of skins.
However, unlike the other uses discussed here, if liniment lotion is used to remove make-up, it must either be rinsed with clean water or followed by a toning lotion to restore the skin's pH (by rebalancing the skin's levels of acid and alkaline). This is especially important for greasy or acne-prone skin which may be susceptible to increased blemishing.
Did you know?
There is a whole host of uses for liniment beyond skincare. For instance, it is also very effective at removing marks and cleaning leather.
Our selection of liniments
Can liniment lotion be organic?
Home-made liniment: advantages and disadvantages
You can make your own liniment at home by mixing equal parts of limewater and vegetable oil. Limewater can be found easily in pharmacies or organic shops. As for vegetable oil, you can use the olive oil from your kitchen.
If you don't have any olive oil, or in addition to it, there are many other vegetable oils you can try, such as:
sesame oil;
argan oil;
jojoba oil;
calendula oil;
sweet almond oil,
etc.
To stabilise the end solution, simply melt a small amount of beeswax in the vegetable oil in a bain-marie beforehand (approximately 6 g per 150 ml of oil). Of course, the main advantage of home-made liniment is being able to choose your vegetable oil based on your own preferences. It is also very economical.
However, you must be extremely cautious when handling limewater (as it is highly corrosive in its pure state). Furthermore, the final emulsion will only have a shelf life of around one month.
Cocooncenter stocks a large range of liniment
If you are looking for a liniment lotion, Cocooncenter has a range of selected products from well-known pharmacy brands as well as organic certified brands. Babyléna's organic liniment is exclusively formulated using natural ingredients, 48 % of which are organic. Certified by Ecocert, it contains only olive oil and limewater and is guaranteed not to contain preservatives.
Our selection of organic liniments
A must-have for taking care of your baby's beautiful bottom, the natural formula and simplicity of liniment have been winning parents over for generations. A cross between a cleanser and a moisturiser, it makes a fantastic addition to the whole family's everyday skincare regime.
Liniment: three key takeaways:
Liniment is 100% natural and is made from limewater and vegetable oil.
Liniment protects skin against irritation by creating a protective layer. As with a cream, it should not be rinsed, allowing the skin to reap the benefits.
Oleo-calcareous liniment is an effective treatment for the removal cradle cap from your baby's scalp.
Regarding the author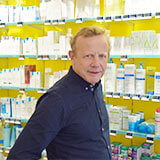 Paul Musset
Doctor in Pharmacy
Certificated of a pharmacy doctorate at Reims University (French University), Paul Musset is passionate by natural medicine and in sport nutrition. He accompanies you in "My well-being and beauty journal" by providing you his health and well-being advices.