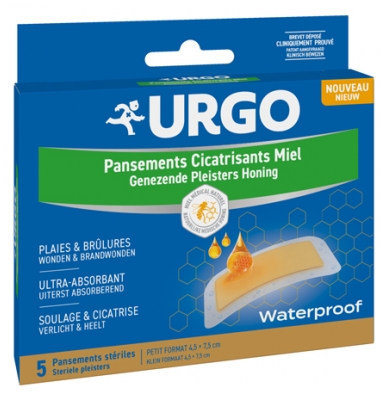 Urgo

Honey Healing Dressings 5 Sterile Dressings

Caution
: Selling this product is prohibited in the United Kingdom.
Description
Urgo Honey Healing Dressings 5 Sterile Dressings are waterproof sterile dressings for the treatment of 1st and 2nd degree burns and superficial exudative or non-exudative wounds.
It is elaborated with medical honey imprisoned in a hydrogel compress (gelled water):
Its Hydro-Honey compress:

promotes healing,
absorbs exudates up to 700 times its weight,
allows atraumatic removal as it does not adhere to the wound.

Its support is:

waterproof: it is water resistant,
flexible: to accompany all movements,
discreet: it feels like a second skin that limits friction.
Dimension of the dressing: 4.5cm x 7.5cm
Dimension of the inside compress: 2,7cm x 5cm.
In the case of a burn, keep the wound under cold (but not icy) water for 15 minutes to limit the spread of the burn. In case of a blister, do not pierce it.
In all cases :
Clean your hands with soap and water.
Clean the wound with water or saline. Disinfect the wound and its surroundings with an antiseptic solution (without alcohol). In the case of a burn, never use coloured antiseptics such as eosin. Dry carefully with a sterile compress. Rinse with water or saline solution.
Use a compress to dry the lesion and its surroundings thoroughly. Stop any bleeding by compressing.
Open the bag, take out the dressing. Remove the protective flaps and apply the dressing to the wound.
Monitor the wound and its perimeter regularly.
The dressing should not be left in place for more than 5 days; it should be removed if it has not peeled off by itself. Renew the dressing according to the instructions for use.
To remove the dressing, gently pull the dressing by one corner, parallel to the skin. Successively stretch and release the bandage until it comes off. You can moisten the skin if necessary.
Single-use product, do not reuse. Reuse of a single-use product may result in risk of infection. Do not use if packaging is damaged.
For the treatment of localized wounds, whose size does not exceed the size of the compress. If you do not see any improvement in healing after 6 days, consult your doctor. This product contains honey. Do not use if you are allergic to honey.
For all burns in children, ask your pharmacist for advice.
In the presence of clinical signs of local infection (redness extending to the non-injured skin, pain, purulent exudates, etc.), foreign bodies in the wound, significant bleeding, biting, stinging with a pointed and/or soiled object, consult your pharmacist or doctor.
URGO Honey Healing Dressing must be used as soon as the sachet is opened and stored in a dark place.
In children, remove the dressing gently and carefully.
Indication
:
Sterile dressings.
| | |
| --- | --- |
| EAN Code | 3664492000985 |
| Form | Sticking plasters |
| Presentation | Box |
| Contents | 5 dressings |
Latest reviews of this item
Urgo Honey Healing Dressings 5 Sterile Dressings
Discover the Urgo brand
Urgo Laboratories offer their expertise to consumers to propose specific solutions. They identify the needs of care and health of consumers and bring innovative answers.

Innovation is the main concern of their strategy! From its creation, Urgo innovates especially on the traditional dressing (ready-to-use dressing, dressing with antiseptic compress, breathing dressing, dressing adapted to every motion).