High-protein drinks
As High-protein biscuits or desserts protein drinks help you to naturally control you hunger feeling thanks to the proteins that they contain. They also contribute to maintain your muscle mass, to benefit from intakes in recommended in vitamins and minerals and to improve your intestinal transit thanks to their richness in fibers. They can be consumed throughout the year hot or cold depending of the preferences and are flavoured for more gluttony.
Which protein drink to choose to slim?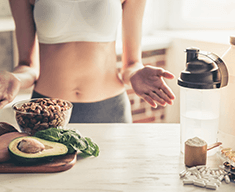 Your on line pharmacy Cocooncenter proposes you several high-protein drinks to contribute to control your weight and to effectively regulate your hunger sensation.
Discover our snacks in form of protein drinks low in calories in form of powder to reconstitute and rich in vitamins and minerals to contribute to the good functioning of your organism during a slimming diet.
Rich in fibers and in proteins, our products will help you to preserve your muscle tone, to find energy thanks to Guarana extract added and to facilitate a good intestinal transit.
Discover our range of protein drinks to slim to consume hot or cold as a snack, ideal to use as a part of a low-calorie diet.