Alopecia, baldness:
How to control hair loss?
Written by Paul Musset, Doctor in Pharmacy | published on | updated on 30/03/2020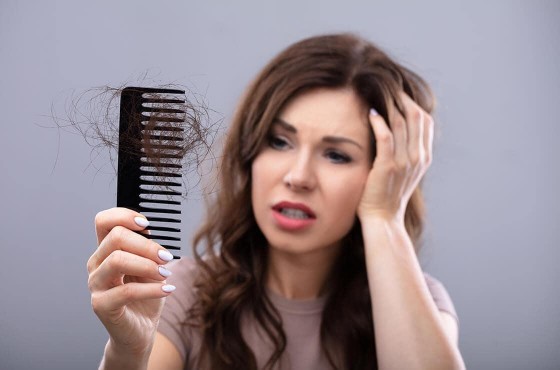 There is nothing more natural than hair loss! It is possible to lose up to 100 hairs per day without cause for alarm. Beyond that, you need to start asking yourself a few questions. What is the cause of this significant hair loss? Can premature baldness be avoided? What are the appropriate treatments? Here is a brief overview of the causes and solutions surrounding alopecia.
Why do we lose our hair and who is primarily affected?
Types of alopecia
Androgenetic alopecia
This is the most common form. Hair loss is progressive and permanent. More commonly known as baldness, this condition affects both men and women. Although the areas affected are different. While men will more likely lose hair from their forehead and the very top of their crown, women's hair loss tends to be more diffuse and from the crown of the head.
Diffuse
Diffuse alopecia affects all hair in an acute way. If chronic, it is often synonymous with a disorder of the body or a deficiency. Identifying the cause of the disorder is essential to effectively treat the problem.
Circumscribed or areata (pelade)
This type of hair loss is confined to a limited area. Psychological factors such as stress are often the cause of localised inflammation at the root of the hair. A corticosteroid-based treatment is generally recommended as a remedy.
Congenital
The absence of hair roots or a hair defect is at the origin of this rare pathological alopecia. The hair follicles are destroyed, preventing hair growth.
Multiple causes
Seasonal hair loss
Hair growth varies according to the seasons. While it is easier summer, the opposite is true in autumn and winter, when it is easier to lose hair.
Heredity
This is the main cause of androgenetic alopecia. Hypersensitive hair follicles in combination with testosterone are responsible for this hair disorder. The life cycle of the hair accelerates and the hair ages prematurely.
Hormones
A hormonal disorder can also cause temporary hair loss. The large variation in hormones after childbirth (sudden drop in oestrogen production) explains why women tend to lose their hair at this time of their lives.
Stress
In people with a genetic predisposition to alopecia, stress can cause hormonal imbalances that promote the production of androgen. This male hormone makes hair follicles hypersensitive and fragile.
Dietary deficiencies
Bad eating habits can also cause hair loss. Some deficiencies such as a lack of iron affect hair health, making it dry and brittle. What is the relationship between iron and hair? Iron plays a role in the proper functioning of red blood cells, which are themselves essential for carrying oxygen throughout the body, including the hair. When hair becomes brittle or falls out in greater quantities than usual, checking your iron levels is a logical first step to take.
Alopecia in children: Ringworm
Ringworm is caused by a fungus that grows under the skin on the head. It mainly affects children between the ages of 3 and 12. This micro-organism is similar to a fungus and infects the scalp, causing localised hair loss. The hair is replaced by a red patch with a clear outline. This type of alopecia requires medical advice and antifungal treatment. Once healed, the hair grows back normally.
Men are more often affected by this hair disorder
Did you know?
One in three Caucasian men develop baldness at the age of 30. 50% around the age of 50, and 80% from the age of 70. - Only 2 to 5% of women suffer from baldness at the age of 30. Around the age of 70, less than half of the female population is affected (40%).
Fighting hair loss: Treatments and tips
Localised preventive treatments: Shampoos and hair treatments
When the first signs of alopecia appear (more abundant loss, brittle hair, etc.), it is good to take action by opting for specific shampoos or treatments. The latter generally combine active ingredients that strengthen the hair follicles and have an anti-hair loss effect.
Our selection of anti hair-loss shampoos
At Cocooncenter, many effective treatments in the form of anti-hair loss treatments from the greatest brands have been selected to prevent and slow down alopecia.
Our selection of anti hair-loss treating cares
What if the solution is on our plates?
Hair loss is sometimes a sign of a lack of minerals such as iron. To help your hair regain its vitality, in addition to treatments or dietary supplements, why not simply start by taking a look at your diet and focussing on iron-rich foods?
To top up your iron stores, here are some foods that are easy to add to your meals:
Red meat
Lentils
Soya
Chocolate
Cashews
Sunflower seeds
Red or white beans
Olives
Food supplements
In addition to a healthy and balanced diet, supplements can help your hair regain its shape and vitality. These supplements usually come in the form of tablets, gels or capsules, such as Phytophanère from Phyto. Rich in vitamins B6 and B8 as well as zinc, these capsules really boost the health of your hair, reducing the risk of hair loss.
Our selection of anti hair-loss dietary supplements
There are many causes of hair loss and everyone can experience a phase of alopecia at some point in their life, without really knowing why. Apart from the congenital form, which is rather rare, alopecia can be effectively prevented and slowed down. Anti-hair loss treatments, dietary supplements, or simply certain iron-rich foods have the power to keep your hair healthy for many years to come.
The key points to remember about alopecia:
Hair loss is not inevitable; there are ways to slow down non-congenital forms of alopecia.
Stress and iron deficiency are hair loss factors.
Men are more affected by baldness for hormonal reasons. Testosterone promotes hair loss.
Regarding the author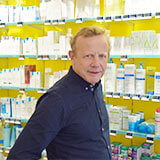 Paul Musset
Doctor in Pharmacy
Certificated of a pharmacy doctorate at Reims University (French University), Paul Musset is passionate by natural medicine and in sport nutrition. He accompanies you in "My well-being and beauty journal" by providing you his health and well-being advices.