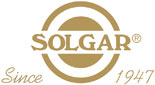 Solgar proposes you a range of food supplements of natural origin, qualitative, effective and innovating.

The priority of the brand Solgar: furnish to the consumers very qualitative products . It commands so all the quality processes, from the manufacturing to the distribution (clean manufacturing, control laboratory, supervision of the distribution).

Solgar it is also a team of experts dedicated to the research which works in the goal to propose effective and innovating products.