Athelete feet
Regular or occasional sports can weaken the feet of athletes, such as long hikes or tough sports. In addition to wearing suitable shoes, it may be beneficial to use certain products specially designed for the hygiene of the feet of athletes, in order to limit overheating or irritation and prepare the body for the physical effort. Taking care of your heels and wearing suitable shoes on a daily basis will also prevent possible injuries during sports.
Which product for foot hygiene to choose?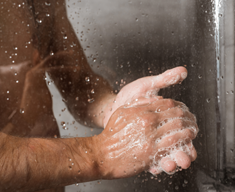 Your Cocooncenter online French pharmacy offers you a range of foot hygiene products adapted to the needs of athletes. Made with essential oils, vegetable oils and natural active ingredients, our products take care of your feet to limit irritation and overheating during hikes, marathons or sports treks. Some products such as foot tanner should be applied several weeks before the scheduled athletic event. This will gradually and effectively strengthen the skin to limit injuries on the big day.
Also check out on our online store our protective and warming creams, ideal to use if you suffer from a blood circulation issues.