Special sports shower gels
After a workout, we usually want only one thing: to take a shower! Key for eliminating perspiration, relaxing muscles and regaining comfort, taking a shower is also a way to promote recovery after exercising. Cocooncenter encourages you to discover a selection of sports shower gels specially formulated to take care of your skin and your hair after your workout, enriched with natural anti-fatigue and energizing active ingredients.
Which shower gel to choose after sports?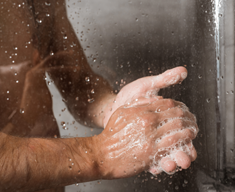 Check out on our online store our range of shower gels for sports offered by leading brands such as Kneipp or Akileïne. Made up of active ingredients such as arnica, rosemary or citrus essential oils, our products help tone the skin, effectively eliminate all traces of perspiration on the skin or hair and stimulate the body to facilitate recovery.
Also discover the hand and body toilet lotion to quickly cleanse your body without any need of water. Very practical, it is particularly recommended during hiking or camping.
Your online French pharmacy also offers a range of hygiene products specially designed to take care of athlete's feet and limit irritation.