Coconut oil:
nature's own miracle worker
Written by Paul Musset, Doctor in Pharmacy | published on | updated on 23/04/2020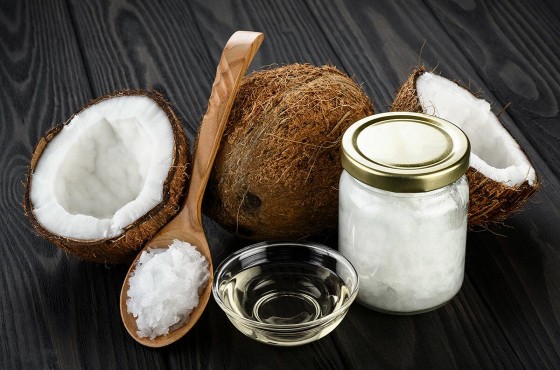 The unmistakeable heavenly aroma of coconut oil. In the realms of cooking, cosmetics and medicine, coconut oil or "cocoa butter" is frequently linked to miracle products. Why do so many people swear by it? What exactly are coconut oil's benefits and how is it used? Let us reveal all.
Coconut oil: the cosmetic benefits
Coconut oil tames dry hair
Using coconut oil on the hair is a particularly effective way to restore its strength and shine. The lauric acid it contains allows it to intensively nourish the roots. The best way to take full advantage of its benefits is to use a coconut oil mask. Proceed as follows:
Apply a small amount of oil throughout the hair, focusing on the ends;
Wrap your hair in a towel;
Leave for a few minutes;
Rinse your hair thoroughly.
Applying this type of mask once a week will intensively nourish over-dry hair.
Coconut oil for the skin: an anti-ageing treatment
Coconut oil is an effective way of nourishing both the scalp and the skin. Rich in vitamins E and A, coconut oil can be used as an anti-ageing oil. With its anti-oxidant and anti free-radical properties, it effectively combats the signs of skin ageing.
Coconut oil for whiter teeth
This is one of the most astonishing benefits. Who knew that coconut oil had a whitening effect on teeth? When combined with bicarbonate of soda, it can even be used as toothpaste. The paste produced strengthens and whitens tooth enamel, while also eliminating any toxins present in the mouth. Used as a morning mouthwash, coconut oil absorbs microbes and bacteria and can prevent tooth decay.
Coconut oil for the face: an acne treatment
Alongside its nourishing properties, coconut oil also has a purifying, antibacterial effect. It helps to combat acne and prevent spots. Its purifying properties make it an effective make-up remover. It is even an effective way of removing waterproof mascara and helps to strengthen the lashes.
Coconut oil to aid weight loss and prevent stretch marks
Pregnant women and new mums are crazy about coconut oil because it is an effective way to combat stretch marks. A daily massage with coconut oil softens, nourishes and intensively moisturises the skin, helping you to stop emerging stretch marks in their tracks. When combined with exercise, the consumption of coconut oil may aid weight loss by providing the body with a large amount of omega 3 fatty acid, which effectively optimises physical performance. It also helps to suppress the appetite.
What identifies a good coconut oil? It's all in the colour.
To gain the full benefits of coconut oil, it is vital to choose the right one. First and foremost, choosing an organic, virgin, cold-pressed coconut oil will ensure that it is effective. The colour of the coconut oil is also crucially important. In its solid form, a high-quality virgin oil will be white, while the liquid form will be as clear and transparent as water (when exposed to heat). If coconut oil is yellowish, this signals that it has deteriorated or is poor quality (non-virgin oil).
Coconut oil: the health benefits
An effective antibacterial
Coconuts are found in tropical climes. To be able to grow in this type of climate where micro-organisms are widespread, the coconut's medium-chain fatty acids allow it to develop its own antibacterial system naturally.
Coconut oil therefore naturally contains MCTs ("medium-chain triglycerides). These substances are what make coconut oil such a potent antimicrobial.
A natural antifungal, coconut oil is a particularly effective way of combating the spread of bacteria like candida albicans, which is found in fungal infections and intestinal problems.
Recognised anti-inflammatory properties
Have you got sunburn? The highly moisturising, soothing properties of coconut oil make it ideal for rapidly alleviating sunburn. Furthermore, even if there is no redness, applying coconut oil after exposure to the sun will protect the skin from dehydrating and optimise the duration of your tan. More generally, coconut oil is an excellent treatment for inflamed skin.
Reducing cardiovascular risk
The saturated fatty acids contained in coconut oil belong to the medium-chain triglyceride family. Unlike most other saturated fats, coconut oil has the advantage of being rapidly absorbed by the body. This therefore decreases the chance of it leaving fatty deposits in the arteries, maintaining the proper function of the cardiovascular system.
A natural lubricant to prevent intimate skin irritation
Combined with its antibacterial properties, coconut oil's oily texture makes it an outstanding lubricant. In women, this protects the vagina and mucous membranes from skin irritation and helps to prevent fungal infection. However, coconut oil is not compatible with condoms.
Is coconut oil the best oil to use for frying? Unlike many oils which do not tolerate being heated and may be impaired by the cooking process, coconut oil can easily withstand very high temperatures. In addition, its nutritional properties make it an excellent oil for frying.
Our selection of coconut oils
Whether for health or beauty, coconut oil proves to be genuinely effective in a whole range of everyday situations. Add to this its enchanting, heavenly scent, and you'll understand why it is the oil of choice for so many people.
Three points to remember:
Coconut oil is used in cosmetic products to harness its moisturising, nourishing properties.
The antibacterial properties of coconut oil are effective in tackling the spread of micro-organisms harmful to our health.
In its basic form, it has an oily texture. It becomes more liquid when heated, but retains all of its properties. In addition, coconut oil withstands high temperature very well and is not impaired by the cooking process.
Regarding the author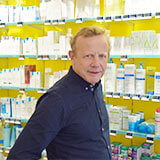 Paul Musset
Doctor in Pharmacy
Certificated of a pharmacy doctorate at Reims University (French University), Paul Musset is passionate by natural medicine and in sport nutrition. He accompanies you in "My well-being and beauty journal" by providing you his health and well-being advices.