Conditioners:
a few useful instructions
Written by Marion, Aesthetician/Cosmetician | published on | updated on 08/02/2021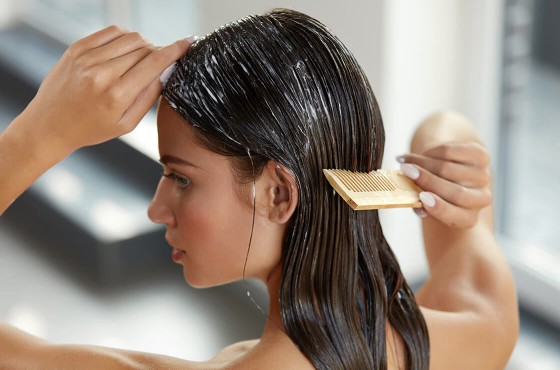 Conditioners are complementary hair care products that are used in addition to hair washing. They can have different actions, especially on the scalp, but also on the appearance or health of the hair. Which conditioner to choose and how to integrate it into your hygiene routine? Here's all you need to know.
What is a conditioner?
Unlike shampoos, conditioners are not intended for hair washing: they should be applied after you've washed your hair, in addition to shampoo. Conditioners can have several actions – detangling, nourishing, etc. – on the hair. They can be used on all types of hair, should it be on a daily basis as routine care or occasionally in order to heal a disturbance (dandruff, brittle hair, etc.).
The different forms of conditioners
Conditioners come in different forms. Most of the time, they are sold in tubes, i.e. in liquid form, and have to be applied on wet hair while you're in the shower. A solid conditioner is similar to a bar of soap, which lathers and liquefies when in contact with water. Leave-in conditioners are more similar to styling hair care products: they nourish the hair intensely and facilitate detangling, especially for curly or kinky hair. They should be applied after washing, like a hair cream, with no need for rinsing.
What is a conditioner made of?
The composition of a conditioner is very important. Indeed, its active ingredients are what allows it to have an action on the hair. The presence of a vegetable oil (coconut, castor oil, argan) or shea butter in its composition thus provides nutritious benefits. Likewise, specific essential oils or certain plant extracts also have nourishing or soothing effects. It is recommended to favor a composition with the most non-chemical elements in it and to avoid derivatives from the plastic industry (silicones, etc.), which could prevent the hair from breathing.
Hair mask or conditioner: what's the difference?
Hair masks have a richer formula than conditioners. Besides, they generally require you to leave them on for a longer time and thus nourish the hair in depth, particularly thanks to active ingredients such as shea butter or vegetable oils.
What conditioner should you choose based on your hair type?
• Dry, split or brittle hair: nourishing formula
Curly, frizzy or kinky hair tends to be drier than straight hair. That is why it is not uncommon for these types of hair to be dry in appearance, rough to the touch and/or brittle. In this case, a nourishing conditioner can be applied after each wash so as to repair the hair and provide it with the nutrition it needs.
• Irritated scalp, dry dandruff: soothing formula
In case of dry dandruff – i.e. small and white dandruff –, the scalp can be treated with a shampoo and an anti-dandruff conditioner. This helps sanitize the hair, soothe the scalp and thus prevents itching.
• Oily dandruff: purifying formula
Oily dandruff is caused by a scalp that produces too much sebum. A suitable anti-dandruff conditioner cleanses the scalp and regulates it so that it does not get too oily.
• Kinky hair/easily tangled hair: detangling formula
A detangling conditioner makes it possible to smooth the hair and therefore facilitate brushing. It can be applied on all lengths and allows you to drag the knots. It is an ideal treatment to use with each wash, in order to more easily disentangle long or curly hair.
• Frizzy hair: straightening formula
Some conditioners offer a formula that smooths the hair and/or redesigns the curls. These are recommended for curly or kinky hair, to avoid frizz and better sheath curls.
• Normal hair: hydrating and/or detangling formula
Normal hair is healthy hair that is neither dry nor oily, neither brittle nor rough to the touch. A lot of conditioners nourish the hair and help it detangle, without weighing it down or greasing it. In that case, occasional use is sufficient.
• Colored hair: protective formula
Colored hair is by nature weakened by dyes. A suitable conditioner thus protects the hair fiber and makes the coloring last longer over time.
Is it okay to use a conditioner on oily hair?
Oily hair actually means oily scalp, the latter producing too much sebum in certain cases. It is totally okay to use a conditioner with a rich formula without making the scalp oily by applying it only on the ends or the lengths.
How to apply conditioner on your hair?
You have chosen the right product for your hair and are wondering how to use a conditioner? Here are some tips for applying your treatment at home.
• Where to apply it?
A conditioner has to be applied mainly on the lengths since this is where the hair tends to be dry or in need of nutrition. However, on very dry hair (curly or kinky hair, for example), the treatment can be applied to all of the hair, including the scalp. The same goes for short hair.
• With what accessories?
It is possible to use a comb with large teeth to apply detangling conditioner and thus facilitate brushing. The conditioner helps to drag the persistent knots, especially on curly hair, very long hair or very tangled hair, or with children.
• How long should you leave it on?
When applying conditioner on your hair, you should respect the duration specified on the bottle. Generally, a few minutes (between 3 and 5) are sufficient for the product to penetrate the hair. You can also take this opportunity to detangle your hair, distributing the product well over the lengths.
• How frequently?
A conditioner can be used with each wash if your hair type needs it, i.e. curly hair, dry hair, or hair that is difficult to disentangle. As a preventive measure (colored hair) or in addition to a nourishing shampoo, on normal healthy hair, a weekly application may be sufficient. You can also use a conditioner following every other wash.
• Can it be used as a mask?
Masks and conditioners have different compositions. The formers are more nutritious and are not intended to be used on a daily basis. Likewise, masks are to be used less frequently than conditioners, although the latter can act as a mask on normal hair.
A conditioner is a perfect hair treatment to integrate into your daily or weekly hair routine. In addition to your shampoo, it can help repair dry or brittle hair, nourishing the hair fiber and facilitating the disentangling of curly or very long hair.
The three key points to remember about conditioners:
Conditioner are used in addition to shampoos, as a hair care product. However, it does not wash hair;
Conditioners have to be applied mainly on the lengths, to nourish them in depth;
There are different formulas with targeted actions for each type of hair.
Regarding the author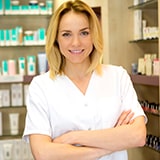 Marion
Aesthetician/Cosmetician
Certificated in Aesthetic/Cosmetic, Marion is specialized in dermo-cosmetics cares and in make-up. Through "My well-being and beauty journal", she helps you to take care of your face and of your body by providing you her beauty advices.