Healing cream:
how to choose it well?
Written by Paul Musset, Doctor in Pharmacy | published on | updated on 08/04/2020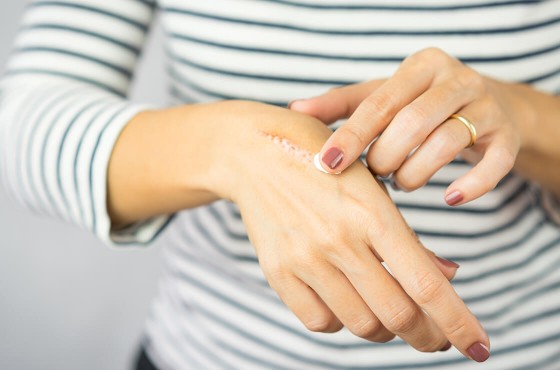 You need to take care of your skin every day, yet there are times when it needs more than just a moisturizer. After a burn, a lesion, a surgical intervention or even a dermatological problem, it must be protected more thoroughly. Healing creams are designed to help you do that.
How does wound healing work?
The human body can prove extremely smart when necessary, particularly regarding scarring. How does this process take place?
3 key steps
When you injure yourself, the wound sometimes bleeds, the body reacts and activates coagulation which stops the expansion of the wound and the bleeding. The healing phase can then begin.
The reaction phase: the skin then "cleanses" itself by eliminating dead cells in order to make room for the formation of new cells. This stage lasts between 2 and 4 days.
The regeneration phase: it spans over ten days or so. Damaged tissues and blood vessels are replaced with new ones.
The maturation phase: it can take up to two years. Its purpose is to restore the dermis to its original appearance and elasticity.
Pay attention to the factors delaying healing
Scarring is a long process that can be slowed down by several factors, including infections. An infected wound takes longer to heal. Some specific pathologies – such as diabetes and liver failure – can slow healing. Several treatments – such as chemotherapy or immunosuppressive therapy, that slow the development of new cells – can also delay it.
Watch for the appearance of crusts
Contrary to popular belief, crusts are not a good sign. They can cause scarring and cover the wound which then heals poorly. When crusts are removed, a second wound is created and scarring is necessarily slowed down. To avoid their appearance, there is nothing like a healing cream.
Know the difference between the various healing creams!
A distinction must be made between the wound healing creams that are sold in self-service pharmacies or parapharmacies and that are considered dermocosmetic creams, and those prescribed by doctors and available only on prescription. The former do not treat an excessively large wound, while the latter are real drugs.
How do healing creams work?
What is the purpose of a healing cream?
The main role of healing ointments is to speed up the healing process. They are generally quite rich and nourish the skin in depth, helping it to regenerate by creating a protective barrier against external aggressions. Do note that a healing cream is particularly suitable for a fresh wound. Indeed, it is more effective on a recent injury than on an old scar that is already formed. If you are looking for a scar cream or ointment, go for a restorative cream.
How often should I use it?
When you treat a lesion with your healing cream, may it be for face or body, apply it once or twice a day. This is enough for it to be efficient and heal your skin. Regarding the duration, continue to use your healing ointment until the healing is complete.
How to use your healing cream?
If you want to maximize the effectiveness of your healing cream, you must apply it under the right conditions. Start by thoroughly cleaning and disinfecting your skin, then dry it perfectly. Then gently massage the affected area with your cream until complete penetration. To avoid the appearance of scars as much as possible, also consider protecting your skin from the sun's rays, with an anti-UV cream for example. Your healing cream will be even more effective that way.
Did you know?
Certain healing creams also have an antibacterial action. They thus prevent the development of bacteria on the skin which could delay wound healing.
Which healing cream for which scar?
Acne scars
Acne can leave marks on our skin. If you are looking for a healing cream for pimples, there is nothing like Avene Cicalfate Antibacterial Repair Cream. Its antibacterial action prevents the development of microbes for better healing. It is ideal as a healing cream for facial acne.
Tattoos
Having someone tattoo your skin can sometimes cause lesions, as the latter is at risk of being damaged by both the needle and the ink. It must therefore be protected. Bet on the essential Avène Cicalfate+ that needs to be applied several times a day on clean and dry skin, until the end of healing.
Postoperative care
After an operation, use a scar cream, as the skin has been particularly attacked or even severed in depth over a large area. In that case, apply Ialisetcare from Laboratoires Genevrier, a healing cream recommended for postoperative care.
Wound healing
Small sores, cuts, scratches... Healing creams are also useful for small wounds from everyday life. Don't hesitate to give your skin a boost. Use Bioderma Cicabio Soothing Repair Cream twice a day to speed up the healing of your lesions.
Sunburns, burns
When you get sunburned, your skin is more or less intensely burned. Use a special burn healing cream like Cooper OsmoSoft Burns and Sunburns. It relieves pain, reduces redness and prevents infection thanks to its antibacterial properties, while rehydrating the skin. Dermatologists also use that healing cream on patients suffering from a nitrogen burn.
Irritated and weakened skins
Whether it is due to the weather, a dermatological problem or an injury, the skin may show redness, dryness and traces of irritation. To restore its radiance, apply Uriage Bariéderm Cica-Repairing Cream.
The skin is the largest organ in the human body and, as such, it is particularly exposed. This is what makes it very vulnerable to external aggressions. It thus may need to be repaired. Healing creams are precious allies to treat it and accelerate its healing.
Three key points to remember about healing creams:
Healing takes place over three stages: reaction, regeneration and maturation;
Creams are designed to help healing in a faster way and to prevent complications;
Burns, irritations, wounds, cuts, tattoos… You'll have no problem finding the suitable healing cream for your dermatological problem.
Regarding the author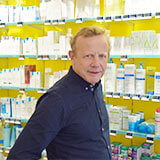 Paul Musset
Doctor in Pharmacy
Certificated of a pharmacy doctorate at Reims University (French University), Paul Musset is passionate by natural medicine and in sport nutrition. He accompanies you in "My well-being and beauty journal" by providing you his health and well-being advices.