Expectant mother:
what to pack for the birth?
Written by Paul Musset, Doctor in Pharmacy | published on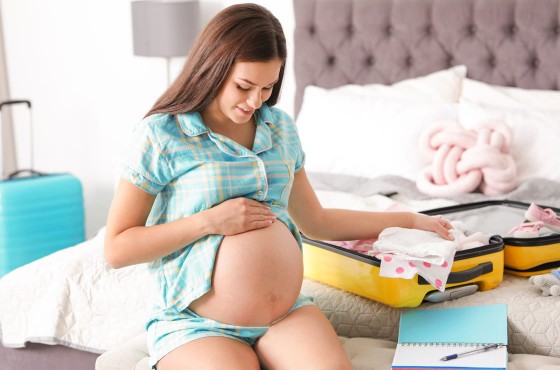 Did you expect it? You are there. The last trimester of your pregnancy is starting and the birth of your baby is fast approaching. Between impatience, excitement and questioning, it is time to prepare for childbirth. The maternity bag is therefore a key step not to be missed. When should you start to prepare everything? What should you put in it? A small guide to preparing the maternity bag to be ready to welcome your baby.
Maternity bag: when and how best to prepare it?
Anticipating baby's arrival
It's no secret that the classic duration of a pregnancy is 9 months. So, it is true that this leaves enough time to prepare for D-Day. However, nature sometimes speeds things up and a premature delivery at 2 or 3 weeks is very common.
In any case, it is impossible to schedule the baby's arrival to the nearest day. To be sure not to be caught off guard, preparation of the maternity bag is something not to put off.
For a conventional pregnancy, it is usually around 8 months that serious consideration should be given to its preparation. For other situations (risk of premature delivery, twin birth), the maternity bag can be prepared even more in advance.
Take advice from the maternity ward
This is your first pregnancy and you are a little lost on the essentials for the birth? You can contact your maternity hospital to find out what items they have and which you don't necessarily need to add to your set. Indeed, nappies and toiletries are often part of the range of accessories made available by the maternity ward or available in a package.
Make a checklist
Afraid of forgetting something essential? To guarantee your peace of mind, there's nothing like a checklist of the essentials that should go into your maternity bag.
Put together a small bag for the day of delivery
Of course, the maternity bag is intended to include everything for you need for the duration of your stay. However, a bag dedicated to D-Day is also useful to avoid being cluttered up with a large bag for the stay. Inside this bag, you will be able to include the necessary to comfortably dress baby as soon as they arrive as well as some accessories which can be useful for you to make this long awaited day as comfortable as possible (example: an atomiser if it is hot or socks if the contrary).
Maternity bag list: baby essentials
For D-day
When baby pokes its nose out, it goes from a warm and cosy environment to a much cooler universe. The main thing is therefore to ensure that it is quickly warmed up. In this small bag, you should therefore include:
A baby grow;
Pyjamas;
A wool cardigan;
A hat;
Socks;
Gloves (to limit scratches).
Washing products for baby
Your stay at the maternity unit is an opportunity to discover best practice to adopt to achieve baby hygiene. Here are some examples of useful products to include in the baby toiletry bag:
Hypoallergenic wipes;
Liniment or baby cleansing milk;
Capsules of physiological saline;
Eosin (to clean the umbilical cord).
You can find all the products useful for baby hygiene in our mother and baby section.
Our selection of baby washing care products
Apart from the kit, do not forget to take something to dry and warm baby after its bath or on its changing table. A bath cape is ideal because it has a hood to prevent baby from getting a cold.
For baby's comfort
Depending on the length of stay at the maternity hospital (from 2 to 8 days on average depending on the postpartum and baby's state of health), it is necessary to plan how to dress your new-born baby. As well as the clothes, you should add some useful accessories for the well-being of baby. Here is what you can put in the baby maternity bag:
6 or 7 cotton baby grows;
5 or 6 pyjamas;
1 sleeping blanket appropriate for the season;
A hat;
Socks ;
Bibs;
A dummy;
A cloth impregnated with the smell of Mummy;
A security blanket.
How to choose the clothes size for the birth of baby?
Difficult to know the weight and size of an infant before D-day. To estimate the size of the clothes to be provided, you can use the last ultrasound which takes place at the beginning of the 8th month. Depending on the measurements taken of the foetus at that time, it is possible to estimate the size of the new-born. Our advice: in case of doubt, allow for a margin of error by mixing 2 sizes (e.g. birth and 1 month).
Maternity stay: essentials for Mother
Maternity record
Even if this is not the most preferred part of expectant mothers, administrative formalities are important to ensure good care during the maternity stay. Here are the main elements to gather in a file and to include in the maternity bag list:
Results of examinations (relating to the epidural);
Ultrasounds;
Blood group card;
ID card;
Vital card;
Insurance card;
CAF recipient number;
Family record book.
Everything you need after the birth
The amount of clothes you need will depend upon the length of your stay at the maternity hospital. In any case, here is a list of the contents for the mother's section of the maternity bag:
Toiletries (toothbrush, toothpaste, soap, shampoo, cream, deodorant, beauty products, towels, etc.);
Post birth absorbent hygienic protections;
Tissues;
2 or 3 pyjamas easily opened when breastfeeding;
1 long cardigan or bathrobe;
Disposable underwear (to avoid staining lingerie);
Comfortable clothes for the day (tracksuit, T-shirt, leggings);
Socks;
Entertainment items (books, music, laptop…).
Everything for breastfeeding
This will not concern all future mothers, but if you have chosen to breastfeed, you will need to provide some very useful items:
A nursing pillow;
One or two breastfeeding bras;
Breastfeeding pads (washable or disposable);
Nipple balm;
A breast pump;
Silicone breast tips (useful in case of cracks).
Our selection of products for breast-feeding
The birth of a new baby is a wonderful turning point in the life of all parents. Good preparation of maternity bag will guarantee peace of mind for D-Day.
The three key points to remember for the perfect maternity bag:
The maternity back should be prepared early to avoid carrying it out in haste (risks forgetting something essential);
Making a checklist of essential items is useful to avoid omissions;
Providing a separate bag containing the necessary items for D-Day (for babies and mothers) helps to avoid the hassle of carrying a large suitcase into the delivery room.
Regarding the author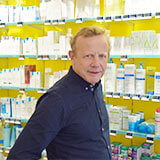 Paul Musset
Doctor in Pharmacy
Certificated of a pharmacy doctorate at Reims University (French University), Paul Musset is passionate by natural medicine and in sport nutrition. He accompanies you in "My well-being and beauty journal" by providing you his health and well-being advices.