Baby massage oil:
why and how to use it?
Written by Paul Musset, Doctor in Pharmacy | published on | updated on 01/12/2020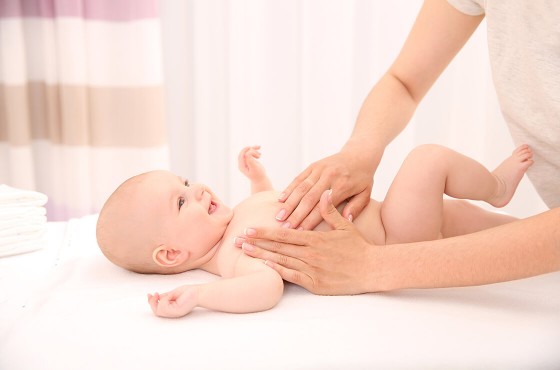 A baby's life is far from being relaxing: intestinal cramps, nervousness, sleep disturbances…. How can you help your child & comfort it? Baby massage is a great way to relax your little angel whilst spending a blessed moment with it. What are its benefits? Which baby massage oil to use and how to proceed? Here are all the answers.
What are the benefits of baby massage?
A good opportunity to create a bond
During pregnancy, the first sense to develop for the future baby is that of touch. In fact, it is the first sensory ability that occurs in the foetus which it then uses to create a link with the outside world. At birth, all the senses have already emerged. However, eyesight is still at the mature stage and the sense of touch remains the baby's most privileged sense. Contact appeases and comforts it.
This is one of the reasons for which skin to skin is highly recommended for a new born. Baby massage forms an important part of these daily rituals and strengthens the naturally existing proximity bond between a child and its parents.
A relaxation aid
The first few months of a baby's life can sometimes rhyme with anxiety. In fact, the unveiling of the world is both extraordinary and scary for a new born. Its brain remains under-developed at birth, its emotions hard to control. Faced with an unknown situation or when feeling tired, the new born is prey to an intense flow of emotions that it finds hard to handle. Consequently, nervousness and stress take over. A baby massage is particularly efficient to appease the baby and help it relax.
A painkilling remedy
At birth, the digestive system of the new born is not yet mature. Hence, colic may appear. They are extremely painful for the baby and may cause uncontrollable cries. To relieve the baby during colic attacks, a massage carried out on its belly is particularly valuable to easing its digestion.
The "Shantala" : An ancestral massage practice in India
Did you know? In India, baby massage is practiced by 90% of mothers. It is transmitted from generation to generation. This massage method called "Shantala" is an integral part of the traditional Indian medicine. It is used to stimulate the different body functions of the new born (optimisation of the circulatory system, helps develop the respiratory and digestive systems)
How to appease a baby with a massage oil?
Which massage oil to use for your baby?
Favour naturally based ingredients.
The skin of a baby is extremely sensitive. It is recommended to preferably adopt natural products which will help preserve the integrity of the epidermis. Here is a selection of the most sought after baby massage oils:
Jojoba oil: has a composition that comes really close to that of natural sebum of the skin. It is ideal for children that have dry skin with atopic or eczematous-prone.
Sweet almond oil: is highly appreciated for its scent, moisturising properties and its faculty to relieve colic attacks of the baby. However, it can be a source of allergy. It should be noted to check this point before use.
Camelina oil: rich in phytosterols useful for repairing damaged skin. It has also anti-inflammatory properties.
Olive oil: is recognised to have emollient and softening virtues.
Sesame oil: has the power to warm the skin. That is why it is more recommended in winter.
Calendula oil: has outstanding healing properties. It is one of the most tolerated oils for all skin types.
Avocado oil: very nourishing for the skin and contributes in strengthening its hydration. It is also healing.
Choosing its oil according to its needs
Depending on your wish or need, various types of vegetal oils can fit in. Generally speaking, they can be classified into two categories:
Relaxation oils
These baby massage oils mainly aim to relieve the overall condition exploiting the synergy of numerous vegetal oils. Some brands also incorporate some drops of essential oils to optimise the relaxing effect. This is, for example, the case of Baume Puressentiel relaxation that can be used on a baby as early as from its 6th month.
Specific oils
These combine the practical and the enjoyable by focusing on certain vegetal oils properties to act on particular disturbances:
Colic: the use of a sweet almond oil baby massage associated with an adapted massage technique is efficient to limit the baby's stomach;
Skin dryness: strengthened in vegetal oil of jojoba or sweet almond type, this type of massage oil aims at thoroughly nourishing the skin.
Is it possible to create a home-based massage oil?
If you wish to prepare yourself a natural baby massage oil, it is possible. However, this type of product is very sensitive especially if you combine essential oils with it. In fact, the use of essential oils in the composition of baby massage products is pretty common. Nevertheless, these ingredients are hazardous and should be carefully and cautiously used to avoid any risk to the baby's health.
Before considering the preparation of a home-made baby massage oil, it is recommended to seek advice from a healthcare professional. If there is no counter-indication opposing the preparation of your massage product for your child, here is a simple recipe based on sweet almond, Camelina and olive vegetal oil.
Using a 30ml container, these instructions should be followed:
Mix the 3 oils in equal parts, that is 10 ml for each ;
Firmly shut the container using a stopper pump ;
Mix thoroughly.
Your oil is ready for use! 2 or 3 squeezes is enough to cover the whole of your baby's body.
Use of a baby massage oil: our useful tips
There is no predefined age to practice a massage on a baby. However, depending on the oil used, there might be some restrictions at that level particularly if the product contains essential oils. Therefore, it is vital to check this element before choosing a baby massage oil.
In practice, how to proceed with baby massage? Once again, there are no rigid rules. You can merely follow a provided method by a professional or trust in your own instinct.
Our advice: during initial sessions, do not hesitate to cover all your baby's body parts, (back, hands, feet ….) and look out for its reactions. You can, then, identify its favourite areas. After that, with recurrent and ongoing practice, you will naturally adopt the right moves to relieve your baby.
Massage for a new born is most beneficial at several levels. It is also a good opportunity to strengthen the privileged bonds existing between parents and children. Why do without it?
Three key points to keep for baby massage:
Baby massage is a great beneficial moment for both baby and parents who wish to create a bond with their child;
Baby sensitive skin needs to be pampered. The best massage oil is natural and vegetal;
Essential oils should be used with parsimony and caution. In all cases, it is strongly advised to seek the help of a healthcare professional beforehand.
Regarding the author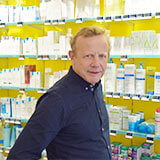 Paul Musset
Doctor in Pharmacy
Certificated of a pharmacy doctorate at Reims University (French University), Paul Musset is passionate by natural medicine and in sport nutrition. He accompanies you in "My well-being and beauty journal" by providing you his health and well-being advices.