Floral waters:
benefits for all skin types
Written by Marion, Aesthetician/Cosmetician | published on | updated on 06/05/2020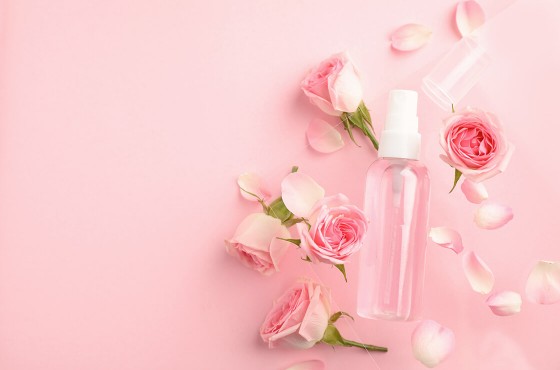 We all know how beneficial plants and flowers can be for our skin, as shown by the place essential oils have in our daily lives. But what about floral waters? What particularities do they possess? What are they used for? Here's all you need to know.
What is floral water?
The way floral water is made
As the name suggests, floral water is made from flowers. More precisely, it is obtained by immersing the plant in a container with distilled water (i.e. with no mineral salts) and heating it up so as to extract the plant's aromatic components through water steam. These very components are then collected to be decanted (i.e. clarified).
This process ultimately leads to a blend of essential oil and water.
What is the difference between essential oils and floral waters?
It all comes down to concentration. Unlike floral waters – that are obtained by blending aromatic compounds and water –, essential oils are directly produced by distilling plants (without adding distilled water). The number of aromatic molecules is thus distinctly denser, and the solution is more oleaginous than for floral waters.
Additionally, unlike essential oils – that can prove quite potent and must be used with care –, floral waters are noticeably gentler and don't bear any contraindication.
What is the difference between hydrolats and floral waters?
Floral waters actually belong to the hydrolat family, which encompasses all the solutions that result from the distillation of a blend of aromatic plants and distilled water. Floral waters are part of that big family, except they are restricted to the use of flowers.
What are the benefits of floral waters for health and beauty?
Although they're less potent than essential oils, floral waters possess numerous properties. For instance, they are often used on the skin for their soothing and purifying qualities. Below are some floral waters that are particularly praised for their benefits to our skin.
Cornflower floral water
Because of its astringent qualities, cornflower floral water is great for toning up the skin. It also has a decongestant effect, which makes it an ideal ally to combat eye bags, circles under the eyes and signs of fatigue.
Additionally, cornflower floral water promotes blood flow and has anti-inflammatory properties. It is perfect for irritated skins or people suffering from rosacea.
Our selection of cornflower floral waters
Rose floral water
Rose hydrosol is high in fatty acids. Il also contains a high concentration in polyphenols, an antioxidant organic molecule. Rose floral water thus has nourishing and anti-ageing properties.
Lavender floral water
Beauty-wise, lavender hydrosol is celebrated for its purifying and regenerating benefits. It cleanses and deeply purifies the skin. Health-wise, it is renowned for its antibacterial properties that are good for the skin. Lavender floral water helps to reduce sebum and prevent pimples. Additionally, it can be used as a complement to clean small wounds.
Chamomile floral water
Its main asset lies in its ability to soothe sensitive, weakened and blemish-prone skins. Chamomile hydrosol also prevents skin reaction induced by exposure to external agents (pollution, cold, drought…).
Rosemary floral water
It is the best ally for oily skins. Its high tannin content has purifying properties and this type of floral water is also praised for the effects of its antioxidants.
Mallow floral water
Thanks to its concentration of anthocyanins, mallow floral water has softening and soothing qualities.
Our selection of floral waters
Witch-hazel floral water
Witch-hazel floral water – which is mainly composed of tannins and flavonoids (a plant pigment) – is particularly praised for its antioxidant qualities. Additionally, it stimulates cutaneous microcirculation and thus brightens the skin.
How long can floral water be kept?
Hydrolats can generally be kept for around a year but this can vary depending on the quality of the product you use. To maximize their lifespan, floral waters are stored in a blue bottle that protects them from alterations caused by light and UV rays. In any case, it is best to follow the indications found on the bottle.
Using a floral water
Who should use floral waters?
As they are gentle and possess a limited concentration of essential oils, floral waters can safely benefit all skin types. They also can be used by the whole family, which is a particularly interesting aspect for babies, pregnant women or nursing mothers, to whom essential oils are often forbidden.
Floral water nevertheless is an active substance. To make sure your skin tolerates it, we recommend you always try some on a small area of your skin before applying it onto your face.
Choosing the adequate floral water
Choose the adequate floral water for your skin type. Here are some examples of the most adapted hydrolats according to your skin type:
Dry skin: cornflower or chamomile water;
Combination skin: rose water or orange blossom water;
Oily skin: lavender or rosemary floral water;
Sensitive skin: mallow, cornflower or chamomile floral water;
Mature skin: rose, rosemary or witch-hazel floral water.
At Cocooncenter, we have selected a wide range of floral waters to cater to the needs of every family member.
Precautions
Floral waters can be used in different ways. Most of the time, they are applied as complements to a specific treatment.
In the morning, floral water can be used on its own to wake up and tone up the skin. It also replaces cleansing water as it eliminates impurities that have piled up on your face during the night. Floral waters are best sprayed directly onto the face. It is useless, or in fact not recommended, to dry your skin right after application. On the contrary, it is better to let the floral water's active ingredients do their job. Once the hydrolat is absorbed, just apply your regular daycare onto your face. Before bedtime, floral waters are great as finishing touches to makeup removal. To achieve optimum results, just soak a piece of cotton in floral water and apply gently onto your face without scrubbing.
Besides these specific applications, floral waters can be used at any time of the day to freshen up the skin.
Efficient, gentle and very easy to use, floral waters prove to be highly beneficial for your skin. To try them is to love them!
Three key points to remember about floral waters:
Floral waters possess fewer active ingredients than essential oils, which also means less restrictions on use.
Every skin type can benefit from a specific kind of floral water.
Floral waters offer benefits both in terms of health and beauty.
Regarding the author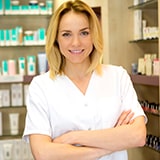 Marion
Aesthetician/Cosmetician
Certificated in Aesthetic/Cosmetic, Marion is specialized in dermo-cosmetics cares and in make-up. Through "My well-being and beauty journal", she helps you to take care of your face and of your body by providing you her beauty advices.