Body scrubs:
the key to healthy-looking skin
Written by Marion, Aesthetician/Cosmetician | published on | updated on 04/05/2020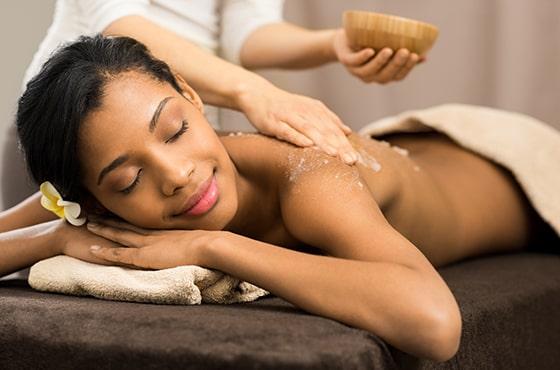 We all dream of having baby-soft skin. Body scrubs have emerged as an excellent way to achieve that goal. But why is exfoliating the skin with a scrub so effective? How do they work and what benefits do they have? We unveil the secrets of an exfoliating skincare regime.
Body scrubs: how do they benefit the skin?
The functions of the epidermis
The skin acts as a powerful shield for our bodies. Primarily, it:
defends against environmental damage;
regulates body temperature through perspiration;
safeguards the body by protecting it from bacteria and
eliminates certain toxins.
The skin is 70% water and varies in thickness from 0.5 mm to 5 mm, depending on the area.
But what do we mean when we talk about the skin's regeneration process?
The skin's upper layer, the epidermis, is primarily made up of keratinocytes, and these cells form the protective barrier. Each month, some of these cells migrate towards the skin's surface and reach the stratum corneum (a solid membrane consisting of dead cells). The skin now enters the desquamation phase, during which the dead cells peel and are shed, to be replaced by new cells. This process is known as skin regeneration. The epidermal renewal cycle occurs approximately every 28 days.
Did you know?
Our bodies lose 600,000 particles of dead skin per hour, amounting to around 18 kilos over a lifetime.
Body scrubs: the finishing touch
The cellular renewal cycle does not remove all the dead cells adequately from the surface of the skin. This is because some cells will resist and remain attached to the epidermis, thus preventing the skin from breathing and from benefiting from the effect of certain substances, such as sebum (which helps to create a moisturising, protective barrier).
Using an exfoliating scrub enables the body to eradicate these remaining cells and completes the skin's renewal process.
Did you know?
People often say that sleep helps repair the skin. This is because skin regeneration occurs mainly at night. A British journalist conducted a test to corroborate this information. Thanks to 8 hours of sleep a night, she still had a lovely fresh complexion at the age of 46. She almost halved the amount of sleep she got for a week, with interesting results. It took just 5 days for the effects to be visible in her skin: her usual fresh, radiant complexion was replaced by a dull complexion, open pores and redness.
What are the many benefits of using a body scrub?
Silky smooth skin
With their exfoliating action, body scrubs remove flakes of dead skin from the skin's surface, restoring the skin's smooth and supple texture.
Improved circulation
Body scrubs help to unblock the pores and boost the circulation, not least due to the associated circular movements.
Combats orange-peel skin
Vigorous scrubbing of the buttocks and thighs can be an effective way to eliminate cellulite. A balanced diet and regular exercise remain essential for optimum results.
A glowing tan
Free of impurities and dead cells, your skin is now ready to soak up the sun and enjoy an even, glowing tan. It is still essential to apply a sun cream suitable for your skin type.
Easier hair removal
Residual dead cells naturally present on the skin thicken the skin and inhibit hair regrowth after depilation. This process is the cause of ingrown hair. Body scrubs promote hair regrowth and therefore maximise the results from hair removal treatments.
Enhances the effectiveness of skincare products
As with the face, body scrubs prepare the skin. By unblocking the pores, they boost the effectiveness of any subsequent product or treatment, be that moisturising, nourishing, weight-loss and so on.
Will body scrubs make my tan fade?
The answer to that is no. Contrary to popular belief, body scrubs do not remove your tan along with dead skin; in fact, they will actually enhance it. Body scrubs increase the radiance of tanned skin.
Body scrubs: a skincare product that should be part of your beauty regime
The power of nature's exfoliants
Honey
Rich in vitamins and minerals, honey is renowned for its wealth of beneficial properties, especially its regenerative qualities.
Sugar
Its grains make it a formidable weapon for eradicating dead skin. Moreover, the glycolic acid that is naturally present in sugar has a non-abrasive exfoliating effect.
Fruit extracts
The plant enzymes in fruit are gently exfoliating and free of granules. Furthermore, pome and stone fruits are particularly powerful antioxidants.
Black soap
A blend of olive oil and crushed, salted olives, black soap scrubs are a traditional part of beauty rituals in North Africa. Black soap exfoliates, moisturises and cleanses at the same time.
Here at Cocooncenter, we have carefully selected a range of body exfoliators that get the most out of their natural ingredients. Among our premium body scrubs, you will rediscover the benefits of sugar in Caudalie's Divine Scrub, the benefits of fruit in Nuxe's Melting Body Scrub and the combined power of sugar and honey in Rêve de miel by the same brand.
How often should I use a body scrub?
It depends on your skin type. If you have dry, sensitive skin, do not use a body scrub more than once a week to avoid skin irritation. However, if your skin is oily, you will reap the rewards of using a body scrub twice a week.
How do I use a body scrub? Which areas should I focus on and which should I avoid?
The body scrub should be applied differently depending on the area that you wish to exfoliate.
Areas of rough skin, such as the elbows, the heels or even the knees, will respond well to vigorous exfoliation, as these areas tend to harbour dead skin residue;
Areas where the skin is more sensitive and delicate, such as the neck or the groin, should be exfoliated gently;
Very delicate areas, such as the genital region, should not be exfoliated at all.
In terms of the exfoliating action itself, you need to apply the scrub using circular movements in order to stimulate the circulation.
NB:
Children do not have a fully formed cutaneous barrier. Even the gentlest of body scrubs are therefore not suitable for use on children.
Body scrubs are a must for your body care routine. They allow the epidermis to regenerate and they boost the effectiveness of your skincare products. However, by removing dead cells from the skin, body scrubs will make your skin slightly more sensitive. That's why it is essential to apply a moisturising cream each time you use a body scrub, as this will help restore the skin's protective barrier.
Body scrubs: three key takeaways:
Body scrubs allow the removal of dead skin cells that prevent the skin from breathing;
Using a body scrub before another treatment will maximise the effectiveness of the treatment;
Using a body scrub helps to complete the skin's renewal process.
Regarding the author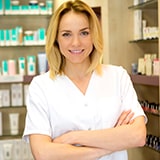 Marion
Aesthetician/Cosmetician
Certificated in Aesthetic/Cosmetic, Marion is specialized in dermo-cosmetics cares and in make-up. Through "My well-being and beauty journal", she helps you to take care of your face and of your body by providing you her beauty advices.