Micellar water:
all the secrets of a multi-purpose beauty product
Written by Marion, Aesthetician/Cosmetician | published on | updated on 05/03/2021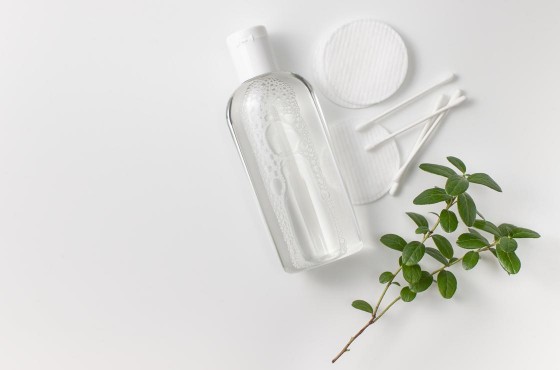 Micellar water has revolutionized skincare routines. A cleanser and a makeup remover, this specific water has rapidly become a must-have product in the realm of beauty. What is it precisely made of? How to choose it and use it on a daily basis?
What is micellar water?
What micellar water is composed of
Micellar water is composed of micelles. These tiny invisible microspheres are tensioactives that divide into two parts: a hydrophilic pole that dissolves in water and a lipophilic pole that attracts fat and can't blend with water. Thanks to these two characteristics, micellar water can more easily attract and eliminate skin impurities such as residues found in the environment.
Micellar water generally does not contain alcohol, which limits the risks of skin irritation. It also protects the skin's hydrolipidic film. Moreover, unlike tap water, micellar water does not contain any chlorine or limescale.
Which skin type micellar water suits best?
Micellar water – which is both very gentle and soothing – is particularly interesting since it is adapted to all skin types. Yet different versions adapted to specific skin types have appeared since it was created, as shown below:
Sensitive skins. They demand a particular attention as they tend to react to any external event. For these particularly fragile skin tissues, it is recommended to use micellar waters specifically designed for sensitive skins.
Acne-prone skins or with a tendency towards oiliness. A regular micellar water can be a good choice. However, so as to improve the purification of these skins with specific needs, some brands offer micellar waters for acne-prone skins with enhanced cleansing action.
Our selection of micellar waters for sensitive skins
Using micellar water on babies: yes or no?
New-born skin is particularly sensitive and also needs to be pampered. Thanks to its hypoallergenic properties, along with the fact it does not contain alcohol nor paraben, micellar water for babies is perfect for cleansing new-born babies' skin. However, unlike the moisturizing action of pomade, micellar water can dry the skin. Its use on babies is thus often limited or done alternately with pomade.
Our selection of micellar waters for combination and oily skins
What's so great about micellar water: it gently cleanses the skin and removes make-up
Gentleness is what best describes micellar water. It is used for daily skin-cleansing as well as make-up removal. Indeed, thanks to the presence of micelles and their potent cleansing action, the make-up remover micellar water combines the benefits of both water and oil. Make-up traces as well as impurities are thus easily removed from the face.
Our selection of micellar waters for normal skins
How to use micellar water?
Which micellar water to choose?
By definition, micellar water is suitable for all skin types. Being all-in-1, it allows for cleansing the skin and removing make-up on a daily basis. Besides acne-prone and sensitive skins that require a specific composition, all micellar waters are safe to use. For those who favor organic products, some brands offer organic micellar waters in which 99% of the total ingredients are from natural origin.
Size can be key when choosing a micellar water. Indeed, people who travel frequently often need specific sizes that suit their nomadic way of life. Most brands now offer such options across their range of products. Travel-size micellar water thus can be found anywhere.
So as to find the product that suits you best, the team at Cocooncenter has selected a vast array of micellar waters for you to choose from.
Is it possible to make your own micellar water?
The peculiar composition of micellar water can prove a bit confusing. Indeed, micelles don't seem to be very easy-to-reproduce actives. Yet everyone can make their own micellar water. The base – which remains the same whatever the recipe is – is obtained from blending water, a hydrolat and sulfated castor oil.
Here's an easy recipe:
To get 100 ml of micellar water, mix:
90 ml of rose water;
3 ml of sulfated castor oil;
125 drops of wild rose essential oil;
20 drops of vitamin E.
Micellar water: a cleanser or a make-up remover?
Micellar water has two missions: to cleanse and to remove make-up.
It is applied on a regular cotton wool pad and used without scrubbing so as to not irritate the skin.
It can thus be used at any time during the day. In the morning, it is perfect to remove the tiny impurities that landed on the skin during the night. It also improves the complexion. As its moisturizing power is not very high, it is recommended to apply a moisturizing cream after use.
Before bedtime, it is used both as a cleanser and as a make-up remover, while also purifying the skin. However, it is worth noting its role as a make-up remover is limited if you're using waterproof products on your eyes. In that case, it is best to choose a dual-phase eye make-up remover.
What about rinsing? This is quite a controversial question as micellar water was created to avoid rinsing the skin while still being a cleanser. Depending on the nature of your skin, the active components it contains can trigger a few twinges. In that case, it is recommended to rinse your face using thermal water.
Beauty tip: combine micellar water and blemish balm cream for a flawless complexion
Using micellar water in the morning awakens your complexion and gives it a brighter look. To optimize that beauty step, applying a blemish balm cream allows for moisturization while concealing the last tiny irregularities. There's thus no need to put heavy make-up on as it sometimes proves aggressive for the skin. By blending micellar water and blemish balm cream and applying it onto your skin, you get a flawless healthy complexion.
Cleansing and removing make-up from your face are two essential tasks that allow for your skin to breathe and to regenerate correctly. Thanks to micellar water – that combines these two actions – skincare routine is made easier and leads you towards a perfect result.
Three key points to remember about micellar water:
Micellar water is both a cleanser and a make-up remover;
For a perfectly clean face, rinse your skin with thermal water after applying micellar water;
Although micellar water generally suits all skin types, some products are specifically designed for sensitive or acne-prone skins.
Regarding the author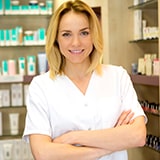 Marion
Aesthetician/Cosmetician
Certificated in Aesthetic/Cosmetic, Marion is specialized in dermo-cosmetics cares and in make-up. Through "My well-being and beauty journal", she helps you to take care of your face and of your body by providing you her beauty advices.