Essential oils for tone
In winter, during seasonal changes or simply during a busy professional period, our body can weaken and we can then feel fatigue and a global lack of energy and motivation. Taken as a cure, by inhalation or in diffusion,essential oils for tone and vitality are numerous and can help you regain optimum energy levels. Lemon, bergamot or sea pine, discover the benefits of plants on your body.
Which essential oils to choose to regain tone and vitality?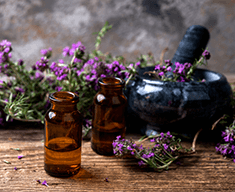 Packaged in the form of inhalers, shower baths or capsules, our essential oils for tone and vitality are grouped into synergies to allow to benefit from the complementary properties of the plants used according to your preferences.
Bergamot, lemon, grapefruit or lemongrass combine to improve our physical and intellectual performance, while not affecting the quality of sleep. Day after day, you find your tone and optimal energy level. As with any product containing essential oils, refer the directions for use of the product chosen to meet the recommended doses and avoid any interaction or contraindication.
Discover also our natural food supplements to help you regain your vitality.