In just a few minutes get a perfect complexion with our make-up tips
Written by Marion, Aesthetician/Cosmetician | published on | updated on 22/03/2021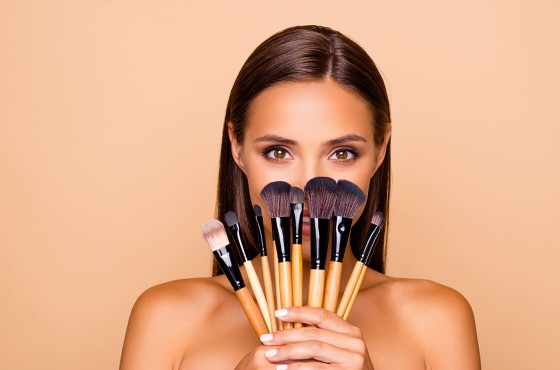 So, would you also like to get a nice complexion for a guaranteed healthy glow? How to have a perfect make-up in all circumstances? What are the gestures and daily habits to adopt in order to achieve this? Here are all the tips and tricks you need to know.
Bright complexion: to start with
Practice the right beauty routine
To have a beautiful complexion, the skin needs to be cared for on a daily basis. Drinking water regularly (1.5 litres per day) and applying a moisturising cream will keep the skin looking nourished and beautiful. Whether your skin is oily, combination, dry or sensitive, you should use the right cream.
Continue your beauty routine with a face primer. It should be applied before any other makeup product, especially foundation. Its role is to create a protective film on the skin. Without this base foundation, the foundation would be absorbed. This step is therefore essential to protect your skin and keep your foundation on as long as possible.
Foundation or BB cream: how to make the right choice?
The foundation unifies the complexion and hides imperfections. Although its application can sometimes seem delicate, it often gives better results. BB cream includes foundation combined with a skincare product. It is easier to apply and reduces redness. This balm is an excellent product to sublimate your skin. Restoring radiance, this all-in-one beauty product allows you to have a beautiful complexion in its natural state. To be used as a make-up base or alone, it is suitable for women who would like to have the most beautiful complexion for their skin.
Nude makeup, the trend to follow
A great 2020 trend, nude make-up is compatible with a beautiful complexion. Seeking to sublimate natural beauty, light textures are much preferred. With neutral shades close to natural skin tone, the result is astounding.
Adapt your make-up to your skin type
To obtain a perfect complexion, it is essential to take into account the nature of your skin. For each kind of skin, adopting the right gestures guarantees a perfect complexion throughout the day.
Dry skin to moisturise
A moisturising base is essential before applying any makeup. It ensures the comfort of the skin and the resistance of the products. The moisturising cream must therefore be applied even before the base of your makeup. Doing so continuously, your skin maintains its optimal moisture level throughout the day.
Did you know that?
In the case of very dry skin, professional make-up artists add a touch of moisturiser to their foundation. This blend ensures perfect comfort throughout the day.
Oily skin: avoid brightness
To avoid shiny skin and prevent the appearance of blackheads, oily skin should choose mattifying foundations. Their role is to eliminate any brightness in order to obtain a perfect complexion. Make sure you choose a green foundation as it neutralises excess sebum. Coloured foundations skillfully hide pimples and skin imperfections. The green colour eliminates shine and redness. Applying this green colour before foundation prevents foundation from fading.
Our selection of complexion correctors for oily skin
The right gestures for combination skin
Fluid or compact: People having combination skin are lucky to use the foundation they prefer. A sponge application ensures a radiant result. A mattifying foundation that contains a corrector is perfect for taking care of the T-zone. It must indeed be worked to eliminate brightness. Among the products to be preferred, opt for water-based products. Their non-oily composition is perfect for combination skin. It guarantees a beautiful complexion while taking care of the skin.
Our selection of complexion correctors for both normal and combination skin
Exfoliate acne skin blemishes
The first step in preparing the complexion of this skin type is to apply a light, non-comedogenic moisturiser. A green base is essential to hide the redness that often comes with acne. The corrector is the best ally for acne-prone skin. Choose a tinted shade to hide blemishes before being covered by foundation. They disappear to make way for a splendid complexion.
Perfect complexion: using the right accessories
The sponge or beauty blender is indispensable.
In order to obtain a well unified complexion, the foundation should be applied with a sponge. This accessory is practical with both a fluid and compact formula. It allows the same quantity of foundation to be spread all over the face. Placed on the sponge, it is carefully applied for perfect coverage without imbalance. For a beautiful complexion, this accessory avoids excess make-up on the temples or forehead.
The beauty blender, a trendy make-up accessory, also offers the opportunity to blend your foundation. With its egg shape, the flared part is for application while the other is more intended to work on details and obtain a perfect complexion.
A touch of finishing with brushes
In order to obtain a beautiful complexion, the brushes should be reserved for the application of a powder or a complexion illuminator. After foundation, the powder brush is used to spread the powder on the face and fix the products. Useful for both compact and loose powder, its shape and bristle density avoid the plaster effect.
It can be completed with the bevelled powder brush. With its special shape, it allows you to structure your face in a precise way. The foundation is well spread and blended on the nose and cheeks.
The duo fibre brush is designed to apply a fluid foundation or powder. This accessory, capable of performing several make-up steps, is comprehensively contained in the kit.
The fan brush will be the best friend of women who would like to have a perfect complexion without overdoing it. Its flared shape chases away the superfluous of product. The face then shows a beautiful complexion well controlled. It can be accompanied by a contouring brush to skillfully highlight your face.
The anti-dark circle brush has a perfectly designed size to be applied in small strokes. Simply blend it in before applying foundation.
Lastly, the kabuki has a specific shape to apply its blush. Perfect for this final touch, it perfectly hooks the material to put it on the cheeks.
To have a beautiful complexion, you must follow specific steps. The selection of products that match your skin plays a role in the result obtained. Also remember to equip yourself with the right make-up tools.
Three key points to bear in mind for a perfect complexion:
Well prepare your skin before applying make-up;
Take into account the nature of your skin;
Use the right accessories for a perfect result.
Regarding the author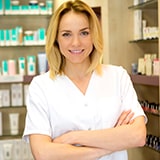 Marion
Aesthetician/Cosmetician
Certificated in Aesthetic/Cosmetic, Marion is specialized in dermo-cosmetics cares and in make-up. Through "My well-being and beauty journal", she helps you to take care of your face and of your body by providing you her beauty advices.