Everything to know about Marseille soap bars
Written by Paul Musset, Doctor in Pharmacy | published on | updated on 21/09/2021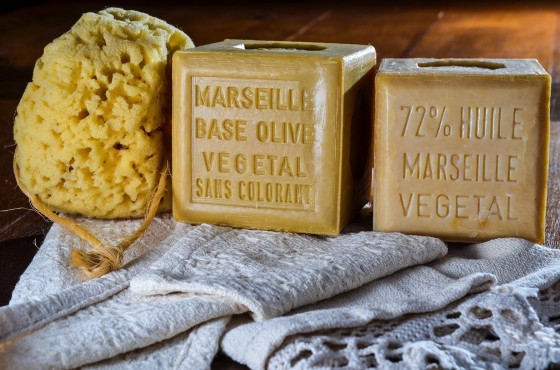 At a time when being natural is trendy, Marseille soap seems to gradually regain its special place in the bathroom. What is it made of? How does it benefit the skin? How to use it? We tell you all about Marseille soap.
Marseille soap: its ingredients and benefits
How is Marseille soap made?
4 ingredients make up Marseille soap: soda, vegetable oil (olive, copra, groundnut), water and sea salt. To get the cubic shape we are all familiar with, the ingredients are cooked, and the oil hardens through the action of sodium and heat.
The manufacturing process takes place in 5 stages:
Mashing: bringing soda and oil to a boil;
Salting out: adding sea salt to remove some of the water in the obtained emulsion;
Cooking: transformation of fatty substances into soap;
Washing: refining process to get rid of impurities;
Liquidation: adding water to obtain a smooth surface.
The genuine Marseille soap is 100% natural, it contains no coloring, fragrance, or preservatives.
Did you know?
You should know that Marseille soap has already been used by the Gauls. Those days, it was hand-made. Its industrialization turned into a necessity during the 17th century, when soap makers could no longer meet the increasing demand, which went beyond the French borders. Marseille had 7 factories those days, which produced around 20,000 tons per year those days. From the end of the 18th century until the Second World War, Marseille soap's industry was at its peak. It was then gradually disused, through the invention of the washing machine and alternative washing products.
What are the benefits of Marseille soap?
Due to its exclusively natural composition, genuine Marseille soap is hypoallergenic and suits for all skin types. It can be used on a wound without the risk of inserting pathogens. On the contrary, Marseille soap even possesses antiseptic and healing properties.
Moreover, absence of allergens makes it the number 1 ally for sensitive and reactive skin. It is also ideal for gently cleaning baby's skin without any risk of irritation, as it helps maintain a proper pH level of the skin.
Another benefit of Marseille soap which should be noted: its astringent properties, provided due to the vegetable oil. Through deep cleansing, oily and acne-prone skin can benefit from Marseille soap's ability to regulate sebum production and limit the emergence of pimples. Last but not least, its benefits are not limited to the human body or laundry care. It is 100% biodegradable; Marseille soap is an asset when it comes to protecting the environment.
How to use Marseille soap?
The different forms of soap
The original Marseille soap can be of two colors:
Green when its composition is mainly based on olive oil;
Beige when olive oil is replaced by peanut oil.
Moreover, to enhance its smell, some manufacturers add plant extracts such as lemon, lavender, almond, etc.
In terms of formats, manufacturers have adapted to the various needs by offering a wide range of Marseille soaps. You can now find these in the form of:
Traditional bars;
Flakes;
Liquid.
Our selection of Marseille soap bars
Marseille soap for the skin
Liquid Marseille soap or in a bar , is very gentle, hypoallergenic and has astringent qualities. It can be used daily on the body and face; it respects the epidermis and limits the risk of developing skin reactions. Moreover, its softness allows it to be used without any limits and makes it a very good washing treatment for hands.
For men, given that Marseille soap has a strong foaming power, it can be used as a shaving product.
A shower gel with homemade Marseille soap: recipe idea
Do you want to make your own shower gel from Marseille soap? There are several recipes. Here is a very simple one:
- Boil 20 g of Marseille soap flakes in 1 liter of water;
- Once cooled, add a tablespoon of coconut oil and the same amount of honey to the obtained solution.
Other uses
In addition to its dermatological benefits, Marseille soap has many other advantages. It can be useful for:
Hair care
For soft and shiny hair, Marseille soap can act as a mask:
Place 2 tablespoons of melted Marseille soap in a small bottle;
Add the same amount of sweet almond oil, olive oil and wheat germ;
Break an egg and add the yolk to the mixture;
Shake energetically and apply the solution to the hair while avoiding the root;
Leave on for 30 minutes then rinse thoroughly.
Toothpaste
Even though its "soapy" taste can lead to hesitation, you should know that Marseille soap is beneficial for teeth. Its cleansing and healing action is ideal for fighting against tartar and preserving healthy gums.
Washing
Its hypoallergenic properties allow it to clean laundry without the risk of any allergy. For laundry, favor flakes, as it is easier to dose. Moreover, Marseille soap is wonderful on stains. Many users also use it mainly for its ecological benefits.
Household products
With its very effective degreasing action, Marseille soap has turned into the favorite household product for many homes. It cleans floors, walls, kitchen utensils, household appliances, etc. very safely.
As effective as a hygiene product for the body, but also as a detergent for the home, Marseille soap has got it all. Natural, healthy, and respectful on the environment, it meets the expectations of the entire family, without any health risks, right from the youngest and the oldest.
The three key points to remember about Marseille soap:
Marseille soap is 100% natural. It is made up of a fatty substance (vegetable oil), soda, water, and sea salt;
Hypoallergenic, Marseille soap has healing and astringent power;
Marseille soap can be used by the entire family. It suits all skin types.
Regarding the author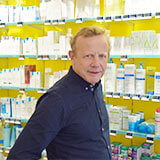 Paul Musset
Doctor in Pharmacy
Certificated of a pharmacy doctorate at Reims University (French University), Paul Musset is passionate by natural medicine and in sport nutrition. He accompanies you in "My well-being and beauty journal" by providing you his health and well-being advices.