Avocado oil:
its many benefits for your skin and hair
Written by Marion, Aesthetician/Cosmetician | published on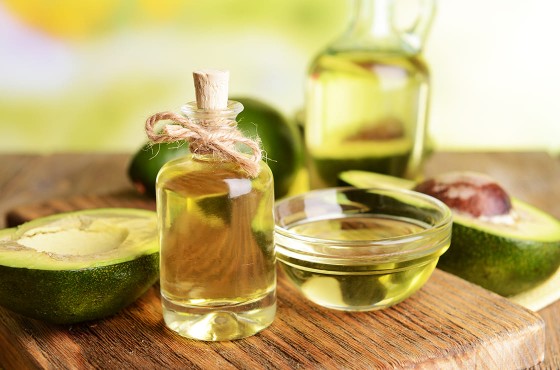 Already have castor or coconut oil in your bathroom? Make room for a newcomer. Avocado oil is indeed one of the beauty essentials to have at home. Inexpensive, it has nourishing properties for the skin and hair, and can also be used as a base for homemade cosmetics. Discover all the possible uses of avocado oil in haircare or for the skin.
Avocado oil: all you need to know about its origin
Presentation
Avocado oil is a vegetable oil that has the advantage of being inexpensive and easy to use. It can be used alone or in combination with other vegetable oils, but also essential oils or vegetable butters. Like coconut oil, it is found in many cosmetics for the body and hair, due to its multiple benefits and uses.
Extraction and manufacturing process
Avocado is a fruit native to Mexico. It is particularly rich in vitamins C and E, as well as fatty acids and trace elements. Avocado oil is obtained by extracting it from the pulp of the fruit. It is used both in cosmetics and in cooking. For use in cosmetics, it is recommended to choose a cold-extracted first pressed avocado oil, which allows the nutrients of the fruit to be retained during the industrial process.
The benefits of avocado oil on the skin
Properties
Nourishing, softening: Avocado oil is particularly recommended for smoothing the skin and softening it. It is indeed, like all vegetable oils, nourishing, and can therefore be used to nourish dry or damaged skin.
Protective: Another recognized property, avocado oil has a protective action on the skin. It is therefore recommended for preparing the skin for the sun. In this case, it can be combined, for example, with olive oil. In winter, it helps to form a protective layer on the skin, which will act as a barrier against the cold or the wind.
Anti-aging: Did you know? Avocado oil is one of the few vegetable oils to have anti-aging properties. Thanks to its antioxidant properties, it delays the aging of the skin.
Regenerating: Finally, the last benefit of avocado oil: its regenerating properties, especially on damaged or very dry skin. It helps repair the skin and restore its firmness. It is very useful in winter, in case of chapping or irritation due to the cold, but also in summer after exposure to the sun.
Uses
Rich body balm: Here is an example of nourishing body butter that is ideal for dry skin: mix 35 ml of avocado oil, 25 g of shea butter, and 25 ml of Sweet Almond Oil. This butter is applied to the skin, massaging in until it is absorbed, as soon as the skin feels dry. The combination of these three natural ingredients will help nourish the skin in depth. In a small size, you can also make a homemade lip balm with these same proportions, which will hydrate the lips and prevent chapping in winter.
Protective dry oil: Want to whip up a dry oil for the summer? You just need to mix several vegetable oils in a spray (one third of avocado oil, one third of olive oil and one third of jojoba oil for example) and spray it on your body. This type of oil can be used, for example, before sun exposure. Good to know: it can also be applied to the face and to the hair!
Anti-Aging Face Serum: Avocado oil has anti-aging properties. It helps to delay skin aging, regenerate and smooth the skin. An anti-aging and firming serum, which contains active ingredients in essential oils, can therefore be made from avocado vegetable oil. It is applied in addition to a day cream, in the evening, and works during the night. You can also apply avocado oil on its own, after makeup removal, for its antioxidant properties.
After-sun, restorative: Avocado oil is particularly recommended for soothing the skin after sun exposure. After your shower, spritzing on a few avocado oil sprays will help regenerate your skin and act as an after-sun treatment to nourish it.
The benefits of avocado oil on the hair
Properties
Nutritious: Like the skin, avocado oil nourishes the hair. It is therefore recommended for dry and brittle hair, in routine hair care or for a mask.
Detangling, smoothing, beautifying: Avocado oil smooths the scales of the hair and therefore helps detangling, especially in children or curly hair. It also brings shine and brightness to the hair.
Stimulates growth: Like castor oil, avocado oil also helps stimulate hair growth, giving it strength and vigour. It is recommended for people who face hair loss or want to regain volume, in daily care.
Uses
Nourishing hair mask: Is your hair dry, brittle or lacking in shine? Make a nourishing avocado oil mask by mixing together one tablespoon of avocado oil, one egg yolk and one teaspoon of honey. Mix well and apply the hair mask after shampooing, leave for 15 minutes. This treatment will nourish your hair, making it supple and soft.
Detangling or styling oil: Do you have frizzy, curly or difficult to untangle hair? Avocado oil can help loosen knots and make styling easier. On dry hair, apply it liberally to the lengths, soaking them before combing your hair. On wet hair after washing, a few drops of oil can help structure your hair, especially your curls.
Hair oil: Avocado oil can also be a component of nourishing hair oil, to be left in. If you want to stimulate hair growth, combine it with castor oil. Also add coconut oil, which helps nourish the hair. Mix a third of each vegetable oil and apply the mixture to your hair. Let it soak in for a few hours or even overnight before washing it out: your hair will be nourished, soft and supple!
Avocado oil is an excellent nutrient, also used for its anti-aging properties and to repair the skin. Thanks to its neutral scent, it can be mixed with other ingredients or combined with different oils in the manufacture of body balms and hair masks. Used alone, it brings suppleness to the skin and shine to the hair, while stimulating growth.
The three key points to remember about avocado oil:
Avocado oil is a vegetable oil with multiple benefits. It acts equally well on the hair as on the body and the face;
It has softening, anti-aging and restorative properties for the skin;
For hair, it nourishes the fibres and helps detangling, especially when used in a styling oil.
Regarding the author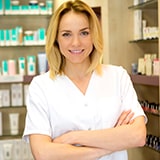 Marion
Aesthetician/Cosmetician
Certificated in Aesthetic/Cosmetic, Marion is specialized in dermo-cosmetics cares and in make-up. Through "My well-being and beauty journal", she helps you to take care of your face and of your body by providing you her beauty advices.