Dry oil:
how to use and choose it?
Written by Marion, Aesthetician/Cosmetician | published on | updated on 06/09/2021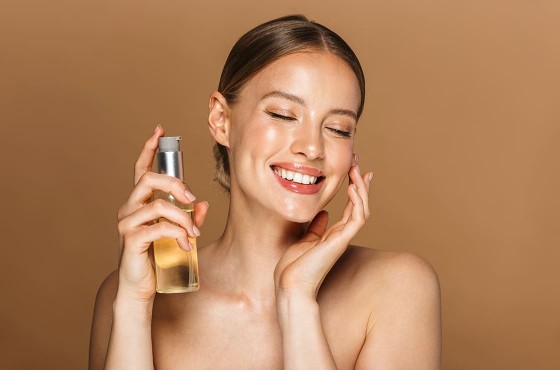 Moisturizing is good but having oily skin after it isn't... Dry oil is the perfect solution to nourish your skin so that it is immediately dry and soft. Discover all the benefits and uses of dry oil.
Benefits of dry oil
During summer and winter, dry oil is very popular, and this is not surprising, because it offers many benefits.
Dry oil is multi-purpose
One of the main reasons for its success is because it's multi-purpose. You can use dry oil on your hair, face, and also your body. It will help you moisturize and nourish your skin, but it has other uses as well. You can also remove make up by applying dry oil to your face, the oil is very effective in removing makeup residue.
The presence of vegetable oils
Dry oils contain vegetable oils. As these are generally greasy, we add a texturizing agent and an emollient agent, that comes from coconut to reduce the greasy effect. Since there are a large number of vegetable oils, one can find many different dry oils. Musk rose, coconut, cotton, prickly pear…dry oils benefit from plant properties, through which they are extracted. These include the anti-aging and healing effects of Musk rose, or the nourishing virtues of coconut oil, while cottonseed oil softens and smoothens the skin. Many brands lean on organic ingredients to make their dry oils. Some products are quite suitable, for those looking for ecological and organic cosmetics with 100% natural ingredients..
A dry touch
Due to these texture additions and emollient agent, dry oil has a dry feel, which is much more pleasant than traditional oil because it penetrates quickly into the skin. It doesn't leave a greasy effect, but rather a slightly satin feel. Practical to get dressed quickly, after applying a dry oil.
Nourishing properties
Dry oil is quite rich and strengthens the body's lipid barrier. It nourishes the skin deeply and restores suppleness and elasticity. It can also relieve the tightness for those people who experience dry skin or during season changes. This treatment can be used on a daily basis.
Dry oil: make the right choice
Avoid hydrogenated or esterified oils. These are chemical manufacturing processes and make a negative impact on the environment. The labels can give you information, in order to choose products which, respect the environment.
What are the uses of dry oil?
One of the main features of dry oil is that it is multi-purpose. It can be applied to all body parts.
Face care
You can apply dry oil to the face, several times during the day. In the morning, apply it before your day cream or serum. It will nourish your skin deeply. At night, add a few drops of dry oil to your nighttime care, as it'll work while you sleep. You can also put a few drops in your face mask.
Hair repair
Are your lengths dried up and you feel that your hair isn't moisturized enough? If so, you can apply dry oil at night to your hair to repair it overnight and wash it off the next morning while you shampoo your hair. Consider putting a terry towel over your pillow to protect it. You can also create a mask before or after your shampoo, by adding a few drops of dry oil to a hair mask or conditioner.
Body moisturizer
Dry oil is also very useful for the body and there are different ways of applying it. All body parts can be nourished with dry oil. You can use it to take care of dry hands, cuticles, and feet. You just need to rub these areas until all the dry oil has penetrated for the best affect. If you like baths, you can put several drops of dry oil directly in the water. They shall add a pleasant smell and leave a moisturized film on your skin. This is a great way to strengthen your lipid barrier while having a pleasant time. You also have the option of massaging your body with dry oil every day, to nourish your skin evenly.
Application tips
The best option is to apply dry oil to damp skin. This way it penetrates better, so that you can make the most of its many benefits.
Adopt dry oil daily
Dry oil is very popular and is available in many forms. It can be found in many skincare products. Here's how you can easily make it part of your beauty routine.
Dry oil for the face
Whether you want to hydrate your skin or gently, remove makeup, you can use dry oil on your face. You can combine dry oil with your daily care, to nourish your skin morning and evening. It will give your skin a very pleasant and aesthetic satin finish. If you want to combine hydration and an anti-aging treatment, opt for precious oil Premier Cru by Caudalie. Don't forget to apply it on the neck and your neckline, as these are areas where the skin is thinner.
Dry oil for the body
To take care of your body, moisturize it regularly with dry oil on your body, on all areas that need nourishment. The essential prodigious oil by Nuxe combines 7 vegetable oils. It is a precious ally for beautiful skin. To make the application super-efficient, make circular movements, and pay close attention to stretch marks if you have any. If you wish for floral scented care, scented dry oils for body exist, due to the presence of hibiscus flowers for example.
Dry oil for the hair
If your hair looks gray, try out the dry oil for hair. Specially designed for the hair, it will make you benefit from its nourishing and restorative properties. For neat hair, opt for a dry oil based on castor oil. To restore their vitality, apply invigorating oil for hair by Phyt's as 100% of the ingredients are of natural origin.
Sun oils
In terms of solar protection, dry oils can be very helpful. They will protect you from the harmful effects of the sun while leaving a dry touch. This works on wet and dry skin, the sun secure dry oil SPF 50+ de SVR treatment will keep you moisturized, while protecting you from UV rays.
Dry oil is multi-purpose and useful for taking care of your face, body and hair. You will be able to moisturize your entire skin with a single product.
The three key points to remember about dry oil:
Multifunctional care: one of the things that appeals with dry oil is its multi-functional nature. Face, body, hair, moisturization, make-up removal… There are many uses and the entire body benefits from this;
A pleasant texture unlike traditional oil, it penetrates quickly, which allows you to dress quickly after it has been applied;
Nourishing virtues: even when dry, it moisturizes and deeply nourishes the skin and strengthens the lipid barrier of the epidermis.
Regarding the author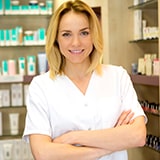 Marion
Aesthetician/Cosmetician
Certificated in Aesthetic/Cosmetic, Marion is specialized in dermo-cosmetics cares and in make-up. Through "My well-being and beauty journal", she helps you to take care of your face and of your body by providing you her beauty advices.