Make-up removal:
an oft neglected part of the beauty routine
Written by Marion, Aesthetician/Cosmetician | published on | updated on 11/03/2021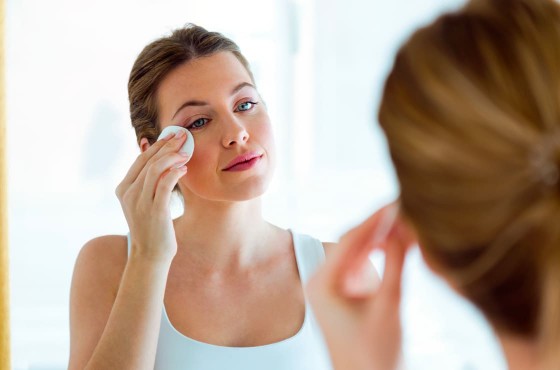 Whilst applying make-up often forms part of a woman's daily beauty regime, the removal of make-up is clearly often neglected. Tiredness at night often takes precedence over this cleansing process. However, it is essential for healthy skin. Why is it so important to take make up off properly? What product should be used? How to proceed? Focus on an essential process to integrate into your beauty routine.
Why is make-up removal essential?
Skin regeneration
The skin reacts differently during the day than at night. During the day, it takes the role of a barrier to protect from environmental attacks. At night, the epidermis benefits from rest to undertake cellular renewal. Indeed, since the skin does not need to fulfil its protective role, it uses this auspicious time to get rid of dead cells and reproduce new ones.
The skin needs to be cleansed of impurities picked up during the day in order to carry out this process. Make-up forms a part of these impurities.
The skin takes from 4 to 6 weeks to regenerate
Initially, new cells are produced in the deep layers of the epidermis. They take about 4 to 6 weeks to emerge and replace the dead skin particles.
Make-up removal: an anti-ageing process
Good make-up removal is a key factor in the efficiency of cutaneous regeneration. Indeed, just a few remains of cosmetic products is enough to prevent the skin from breathing. As a result, the dead cells cannot be properly eliminated and the new cells remain blocked.
Poor make-up removal: a factor in cutaneous sensitivity and spots
One might think that quickly removing make-up would be enough. It does nothing. Even a tiny bit of powder left behind is enough to block the pores of the skin. This then causes irritation of the epidermis and the appearance of red spots and black-heads.
Make-up removal: how to proceed?
Choose a product suitable for your skin type
Make-up removal is essential to maintain clean and beautiful skin. Which product to choose? It all depends on personal preferences and type of skin.
As for texture, there are several possible choices: milk, gel, micellar water, oil or even make-up removal butter.
Your choice may well be determined by the type of product that suits you best in terms of texture. However, skin type should be the overriding factor when choosing a product.
Do you have dry skin?
The priority is nourishment. For make-up removal, the best texture to choose is a rich one such as oil. On the other hand, the need for meticulous rinsing is an inconvenience. Milk is a good option since it allows in-depth rehydration of the skin. Indeed, it is true, in general, that water-based make-up removal products are not suited to dry skin. However, there are some micellar waters "specifically for dry skin". They mix micelles with hydrating agents which reduce dryness.
Our selection of make-up removers for dry skin
Do you have greasy skin?
Greasy skin is rich in sebum. Rich textures such as oil should be avoided, heading towards non-greasy formula. The number one ally for skin with a tendency towards greasiness must be micellar water. They limit and regulate the production of sebum. If you prefer a milky texture, choose those adapted for greasy skin. Their texture is lighter and more fluid than classic milk removers.
Our selection of make-up removers for greasy skin
Do you have sensitive skin?
In this case, texture has little relevance. However, it is essential to choose a product made for sensitive skin. The formula soothes the skin and limits the appearance of irritation. At Cocooncenter, we have put together a large range of make-up removal and complementary care products from all the main brands.
Our selection of make-up removers for sensitive skin
How to remove make-up properly: advice
Proceed in stages
To achieve the best results, good make-up removal takes several phases.
Take off make-up using a suitable product for your skin.
Rinsing: even if the product does not require rinsing off, we advise you to do this anyway. Indeed, make-up removal is very often followed by the application of a night cream. For this to work efficiently, this must be applied to clean and fresh skin.
Night-time Skincare: either a cream or a lotion. In all cases, night is the time to maximise the efficiency of a night-time care product. Moreover, it puts the skin in a good condition to allow regeneration.
Rinsing after make-up removal: choose thermal spring water
Rinsing skin in tap water can cause it to dry up, in particular sensitive or intolerant skin. The calcium in the water is aggressive. It damages the hydrolipid film which is designed to protect skin. Without this natural barrier, the skin dries and becomes more sensitive. For rinsing your face after make-up removal, we recommend the use of thermal spring water. This will protect the face from dryness.
Adopt good habits
Now that the stages of make-up removal hold no more secrets for you, we will now give you some practical good habits to adopt, whatever type of product you use:
Put some milk, micellar water or oil on to some cotton wool;
Put the cotton wool on the side of the nose pressing lightly;
Pull the cotton wool towards the outside of part of the face to remove the make-up efficiently;
Do this for all parts of the face (going from the centre to the outside) including the neck;
Finish with some small circular massage movements with the cotton wool; this will stimulate blood circulation in the face;
Rinse your face with tepid water (for greasy skin) or with thermal spring water (for dry skin);
Gently dry your face, patting it with a towel (to avoid irritating the skin, do not rub).
Make-up removal can seem trivial. However, it has a key role to play in skin health and slowing down the signs of ageing.
The three key points to remember about make-up removal:
Skin regenerates at night. Without careful make-up removal, this process cannot take place in the best conditions;
Choose a remover suited to your skin type;
Rinsing after removal is advised. Thermal spring water should be used for dry skin.
Regarding the author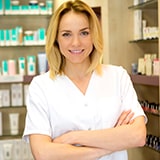 Marion
Aesthetician/Cosmetician
Certificated in Aesthetic/Cosmetic, Marion is specialized in dermo-cosmetics cares and in make-up. Through "My well-being and beauty journal", she helps you to take care of your face and of your body by providing you her beauty advices.