Our top 10 skincare products for men
Written by Marion, Aesthetician/Cosmetician | published on | updated on 05/02/2021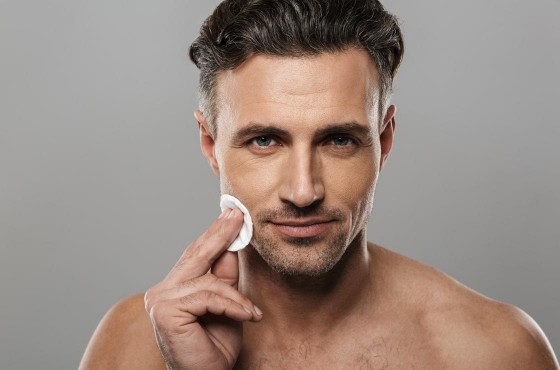 Men also can enjoy a proper beauty routine! Moisturizing creams, aftershave balms and face scrubs: here are our top 10 skincare products for men. They will help you maintain and protect your skin, depending on its specific needs.
Applying a day cream on a daily basis
Moisturizers
Moisturizers are primarily intended for normal or combination skin types. Indeed, thanks to their richer formula, nourishing creams better suit dry skins. The main purpose of a moisturizer is to hydrate the skin, but also to make it softer and smoother, especially after showering. Ideally, you should apply your moisturizer on a daily basis, in the morning, after cleansing your face. That type of product can also be used as UV protection if it is advertised as being a sunscreen day cream.
Our product recommendation: Biotherm's Aquapower For Men cream. Its formula offers both softness and hydration on a daily basis.
Nourishing creams
If you have a dry skin, the use of a nourishing cream is recommended on a daily basis. Thanks to its nutritive formula, this type of cream nourishes the skin and repairs it in case it is really dry (i.e. if it peels, suffers from frostbites or rednesses). Nourishing creams also help prevent dryness-related feelings of discomfort, such as tightness and itching. The cream has to be applied in the morning and in the evening, after cleansing the skin, by massaging until total penetration.
Our product recommendation: Cattier's Mouth of Angel cream, which is enriched with shea butter and argan oil.
Mattifying / purifying creams
Mattifying and purifying creams aim at treating oily and blemished skin. These skincare products for men are meant to purify and smooth the skin. As oily skins tend to produce too much sebum, mattifying creams help regulate this overproduction and avoid shininess, especially in the T-Zone. This specific type of product has to be applied in the morning and can be supplemented with a targeted anti-acne treatment so as to prevent cane breakouts, for example.
Our product recommendation: Payot's Anti-Shine Freshness Gel mattifying cream. Rich in trace elements, it freshens up and mattifies the skin.
Soothing creams
Day soothing creams are designed for sensitive skins, which tend to suffer from redness or show signs of irritation. This type of cream helps to reduce redness, soothe the skin and calm any unwanted reactions. It has to be applied every day, as a daily care product or when necessary, especially during periods of cold and wind, when the skin is weakened.
Our product recommendation: Biotherm's Sensitive Force repairing balm, which hydrates and relieves the skin.
How to define your skin type?
There are four main types of skin: oily, combination, dry and normal skins. Oily skins tend to shine and often suffer from blemishes. Dry skins feel uncomfortable, itch and sometimes peel or crack. Combination skins are characterized by dry areas as well as oily areas, which are often located on the T-Zone.
Using a facial lotion to tone up the skin
You can find facial lotions for all skin types. Depending on their composition, lotions can soothe, tone up or refresh the skin. Cornflower lotions, or hydrosols, soothe the epidermis and decongest dark circles. Conversely, tonic and energizing lotions, based on citrus fruits for example, wake up the skin and restore its radiance. Facial lotions can be used every day, after cleansing your face and before applying your day cream, or simply to cool down the skin in the summer, for example.
Our product recommendation: the sensitive skin-special Eucerin's Cleansing Lotion, which makes the skin softer.
Getting rid of impurities with a facial cleanser
Facial cleansers for men are available for all skin types. We recommend you pick a gentle one for daily use. The purpose of facial cleansers is to cleanse the skin in a gentle way. On reactive or sensitive skins, such a product can prove less aggressive than traditional body soaps. You can also try a purifying cleanser, which is recommended for blemish-prone and oily skins.
Our product recommendation: Clinique's Facial Cleanser for Men, an oil-free soap that is ideal for dry skins.
Using scrubs and masks once a week
Masks and scrubs are primarily intended for oily and blemished skin, as well as normal skins. It is advisable to use them once a week. This type of product should be avoided on sensitive skins, which may tend to overreact. Scrubs are facial treatments that are used to unclog pores and fight against imperfections, thanks to their formula containing a fatty element and an exfoliating agent (extracts of apricot kernels, etc.) which rub the skin. They should be applied on the entire T-Zone (i.e. forehead, nose and chin) by making circular movements so as to remove any dead skin, before rinsing. As for masks – which can be made of clay, for instance –, they have to be applied onto your entire face and sit there for a few minutes. They help to cleanse the skin, purify it and restore its radiance.
Our product recommendation: Clinique's Facial Scrub For Men with its fresh menthol scent.
How often should you use a scrub or a mask?
It all depends on your skin type. Skins that get easily oily are likely to benefit from a purifying mask or a scrub once a week. That should help them cleanse the pores thoroughly. Conversely, on normal or combination skins, a mask applied every 10 days is sufficient.
Using aftershaves to give fragrance to the skin
Aftershaves – often referred to as lotions or balms – are designed for men who shave daily. These skincare products have to be applied after shaving, in order to soothe the skin and prevent burns or redness. Aftershaves generally offer a fresh scent and can be used as a light eau de toilette to put a final touch to your daily beauty routine. Because of their fragrance, it is preferable to apply them in the morning.
Our product recommendation: Weleda's Aftershave Balm, which soothes the skin thanks to its concentration in chamomile and myrrh.
Trying out targeted products for skin-related issues
Anti-wrinkle creams
Anti-wrinkle creams or anti-aging creams cater to young and mature skins which show a few wrinkles or deep facial wrinkles. Depending on the person's age, these skincare products for men help either to prevent the appearance of wrinkles or to reduce them by smoothing the skin and filling up the furrows created over time. The composition of these products may vary and contain agents that stimulate the production of collagen. As they belong to the day creams cluster, they have to be applied daily, in the morning.
Our product recommendation: BcomBio's Anti-Aging Treatment which offers multiple actions and contains extracts of caffeine.
Anti-acne creams
Anti-acne creams are designed to treat acne-prone, blemished and oily skins. This type of targeted skincare products for men treat mild acne, blackheads and pimples that usually can be seen on young skins. They are used as a disease-modifying treatment and a daily care product for acne-prone skins.
Our product recommendation: Gammarde's Organic Anti-Imperfection Fluid, which purifies the epidermis and targets imperfections.
Our selection of skincare products for men
The skin is a sensitive organ that is exposed to all kinds of external factors: pollution, wind, sun, etc. Caring for it with suitable products such as skincare products for men helps preserve it better and provide daily comfort.
Three key points to remember about skincare products for men:
Each skin type can benefit from its own day cream. Choose yours carefully so that it meets the specific needs of your skin;
Cleansing and daily hydration are essential for skin comfort;
Targeted scrubs and skincare can be added to your skincare routine.
Regarding the author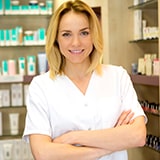 Marion
Aesthetician/Cosmetician
Certificated in Aesthetic/Cosmetic, Marion is specialized in dermo-cosmetics cares and in make-up. Through "My well-being and beauty journal", she helps you to take care of your face and of your body by providing you her beauty advices.