Thermal water:
soothe and take care of your skin
Written by Paul Musset, Doctor in Pharmacy | published on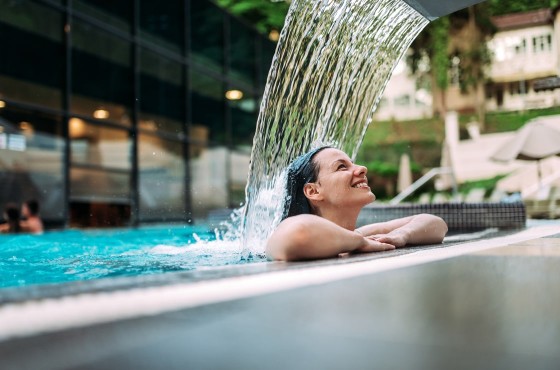 What if you could enjoy the virtues of water used for spa treatment without leaving your home? Thanks to thermal water sprays, it is possible! How is it designed? What are the benefits of thermal water and how to use it? Here are all our tips for optimising the beauty of your skin with just one touch.
Thermal water: definition and virtues
Where does the thermal water come from?
Thermal water refers to water from a hot spring, taken from the depths. The water is extracted after several years of circulation through the rocks. This is how it picks up mineral salts and trace elements.
The therapeutic virtues of thermal waters are recognised by the National Academy of Medicine. They can be used for curative purposes during thermal cures.
In order to share their benefits to the skin with the general public, major dermatological laboratories have taken the opportunity to transform thermal water into a mist or to include it in skin care creams.
Did you know ?
The French don't have to travel thousands of miles to sooth their ailments with spa treatments. About a hundred natural spas are found in the country, mainly in the mountainous regions.
The benefits of thermal water for the skin
In addition to the therapeutic benefits on a rheumatological and digestive level, thermal water has interesting properties for treating skin disorders. Depending on its composition, thermal water can provide the benefits of:
Soothing: its cooling effect is ideal for calming a first degree burn such as sunburn;
Repairing and regenerating: thermal water promotes healing. It is also often used in aesthetic medicine to facilitate the healing of micro-dermabrasions. It also helps speed up the repair process for acne;
Protective: certain silica-rich thermal waters have the power to create a protective film against attacks linked in particular to air pollution;
Anti-ageing: it strengthens the skin's natural defences thus protecting it from premature ageing.
Which thermal water to choose?
In what form can you find thermal water?
The most common form of thermal water to use at home is a spray. This packaging makes it possible to maintain the purity of the liquid and facilitates its application. What's more, in hot weather, the thermal mist is also wonderfully refreshing.
On the Cocooncenter site find a wide selection of thermal waters from the biggest laboratory brands.
Moreover, this spring water is also commonly used in the composition of skin care creams.
Types of thermal water
The properties of thermal waters vary depending on the geological nature of the extraction soil. Depending on the areas in which the water has circulated, it feeds on different trace elements and minerals, the nature and quantity of which may vary. It is this difference that helps to define the specific properties of thermal water.
Since it is above all the source that determines the properties of thermal water, it is logical that each brand offers water that can meet different needs. What types of thermal waters can we find in stores and which brand to choose to meet our expectations?
Waters with low mineral content, but rich in silicate
Waters such as thermal water Avène are ideal for relieving irritated, dry and atopic skin. They also have good healing and anti-inflammatory power.
Waters rich in silica
They have the advantage of creating a protective film on the surface of the skin, which provides a barrier against external aggressions. Among the big brands, we find this type of water at La Roche-Posay. This thermal water is ideal for intolerant and fragile skin which reacts at the slightest opportunity.
Isotonic waters
This is a water that has the particularity of strengthening the balance and hydration of the skin. Thermal water Uriage is one example. Its composition has many similarities with our skin, which makes it a perfect water for all profiles but especially for dry skin.
Waters rich in plankton
They have the ability to strengthen the skin's defences and thus slow down ageing.
Thermal water and micellar water: what's the difference?
Among the different waters offered by dermatological laboratories, it is sometimes difficult to navigate. What is the difference between micellar water and thermal water? While micellar water is primarily used as cleansing and makeup-removing water, thermal water is pure water that does not have a cleansing action. In addition to its refreshing action, it is used for rinsing.
Application of thermal water: our advice
When to use thermal water?
The thermal water can be used at will without risk of overdose. It is suitable for all ages and is often used as a cool mist during a scorching heatwave.
However, it would be a shame to limit ourselves to this refreshing function when we know the multiple benefits of thermal water on our skin.
In your beauty routine, you can use thermal water in the morning and evening to rinse after cleansing the face or removing make-up. Moreover, unlike tap water which can tend to dry out the skin when it is very hard with limestone, thermal water is pure and prevents dehydration.
Finally, by ridding the skin of cleansers or make-up removers, thermal water completely cleanses the skin and optimizes the penetration of the treatments that complete the beauty ritual.
Is it possible to use thermal water to set your makeup?
If the basic principle of thermal water is to refresh and rinse the skin, it also has the power to set makeup. To obtain an effective result, it is of course necessary to avoid spraying too close to the face. It is best to do the misting by holding the spray at a distance of about 30 cm.
How to apply it?
When it comes to applying thermal water, there is nothing simpler. Just use it by sprinkling liberally on the face, then dab everything with a clean towel to dry gently.
Thermal water is an alternative to tap water for rinsing your face. A simple spray is enough to perfect your beauty ritual.
The three key points to remember about thermal waters:
Thermal water is pure water extracted from deep spring waters. It is generally rich in mineral salts and trace elements;
There are several types of thermal waters which differ in composition and properties;
The thermal water is used both as a mist to cool off and for rinsing.
Regarding the author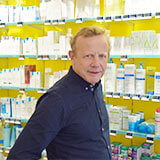 Paul Musset
Doctor in Pharmacy
Certificated of a pharmacy doctorate at Reims University (French University), Paul Musset is passionate by natural medicine and in sport nutrition. He accompanies you in "My well-being and beauty journal" by providing you his health and well-being advices.