Shea butter:
a natural product with thousands of virtues
Written by Marion, Aesthetician/Cosmetician | published on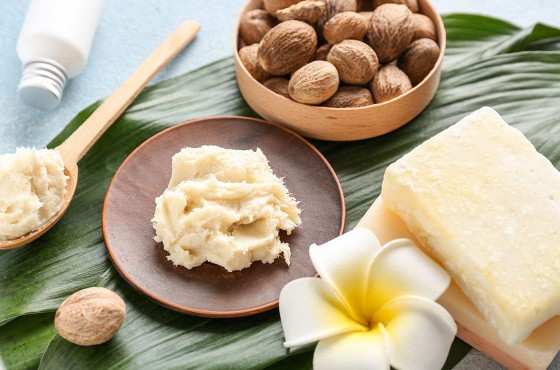 Body, face, hair, shea butter is a precious beauty ally. It is in fatty acids and valuable nutrients for the skin, it is one of the most popular cosmetic ingredients today. We shall explain why.
What is Shea butter?
Where does it come from?
Shea butter is a tree which mainly grows in the African savannas. This plant species is very important in local cultures, especially for food. Moreover, its name means "life" in the Mandinka language.
When shea fruits are harvested, the pulp is then emptied to recover the nut. There is an almond inside. This almond is approximately 50% fat: shea butter.
How is it made?
Its manufacturing follows a traditional method. We wash the almonds, dry them in the sun, then crush these and roast them. The outcome is a granular mixture which is passed through a sort of grinder to obtain a brown paste..
This paste is then kneaded, mixed with water and is churned like butter. The fatty particles clump together and float on the water: this makes it easier to recover the butter. However, it is still necessary to finish evaporating the residual water by heating the butter for a long time. It liquefies, which allows it to be filtered and the one can remove impurities. Butter stiffens while cooling.
Another method is used at times, through cold pressing: the almonds are not roasted, but pressed to extract the oil, at less than 60 degrees. This preserves the natural properties of shea butter even further and leads to a more neutral odor.
What does Shea butter consist of?
Shea butter is a solid fatty substance at a temperature below 35°C, white, yellowish, or gray in color. It is essentially made up of fatty acids, through varying proportions depending on the region of origin, but which is like the following:
Oleic acid: 40 to 60% (omega 9);
Stearic acid: 30 to 50%;
Linoleic acid: 3 to 10 % (omega 6);
Palmitic acid: 2 to 7 %;
Arachidic acid: more than 2 %.
Shea butter also contains 10-15% unsaponifiable substances, which is high. "Unsaponifiable" means substances insoluble in water that concentrate the majority of the beneficial agents for the skin. These substances are of cosmetic interest for shea butter. Among these, we can find:
Vitamins: A, E (antioxidants), D and F;
Terpene alcohols (which are anti-inflammatory - especially cinnamic acid - and help absorb UV rays);
Phytosterols (which also protect against UV rays and improve microcirculation of the skin);
Triterpenes.
Shea butter in food
In Africa, shea butter is used as a dietary fat, extensively. Rich in calories, it preserves well. It is used as a cooking oil or in sauces. It is also used in Europe, but its name is not necessarily indicated in the composition of cookies, chocolate, or margarines, when it is present. But it can often be found in the term "vegetable fat". A term which can designate several kinds of vegetable oils. From a nutritional point of view, although it is nutritious, shea butter is not ideally balanced in fatty acids.
Shea butter for a soft and well-moisturized skin
Shea is a great ally to protect your skin and maintain its moisturization and elasticity. Dry, itchy, tight, flaky, or eczema-prone skin often has a poor hydrolipidic film. Shea butter can help it retain its water molecules, while promoting the restoration of its protective film, this is a natural barrier against dehydration and external aggressions.
Apply shea butter on the body and face, through a gentle massage after having melted it in the palm of your hand, at bedtime, for example, or after a shower. Rub it thoroughly mainly in dry and cracked areas such as heels or elbows. You can also use it as a lip balm, especially if it is pure.
The healing properties of shea butter turn it into an excellent after-sun product. It will help you especially in case of sunburn. You can also make the most of the benefits of shea butter by applying it right after waxing, it will soothe your skin and facilitate healing.
Shea butter for the beauty of hair
Shea butter nourishes and softens hair, just like skin! It is true, that on very curly or frizzy hair which tends to be dry due to their particular shape, shea is used extensively to provide glow, flexibility, and protection.
However, shea butter suits all types of dry hair if you adjust the quantity! You need to carry out a few tests and adapt the quantity to find the perfect balance: nourish without any heaviness.
The best solution: mix a more or less dab of shea, with one or more other vegetable oils, such as olive and castor oil for example, this is known to promote hair growth (but quite viscous and difficult to spread on its own). Massage the scalp properly with this mixture, apply on the ends as well, then wrap the hair in a towel and keep it this way for at least an hour (or even an entire night) before shampooing. To be applied once or twice a week.
A moisturizing treatment for the hair or a nourishing and protective treatment for the skin, shea butter has many uses. As a mask or massage, it adapts to your requirements. You can find many quality products on Cocooncenter, which contain shea butter. Make the most of the virtues of shea butter and retain the shine of your skin and hair!
Three essential points to remember about shea butter:
Shea butter is a natural product which contains fatty acids, vitamins and other molecules that promote moisturization, softening and protection of the skin and hair;
For the face and body, lips, dry areas, eczema patches: apply as a gentle massage once a day or after taking a shower;
For the hair: apply as a mask, adjusting the amount to your hair thickness, and leave it for at least one hour and then shampoo.
Regarding the author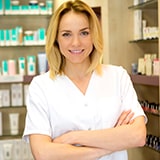 Marion
Aesthetician/Cosmetician
Certificated in Aesthetic/Cosmetic, Marion is specialized in dermo-cosmetics cares and in make-up. Through "My well-being and beauty journal", she helps you to take care of your face and of your body by providing you her beauty advices.