Turmeric:
a plant with multiple virtues
Written by Paul Musset, Doctor in Pharmacy | published on | updated on 08/09/2021
Turmeric, a miracle ingredient? We know, of course, the many virtues of this plant, native to Asia, and consumed as a powder. It boosts the immune system, improves digestion, calms aches and pains and inflammation: an overview of the benefits of turmeric on the body, and its uses.
What is turmeric?
Origins of the plant
Turmeric is a perennial plant, native to Southeast Asia, and mainly produced in India. It is its roots, and more precisely its rhizomes, which are reduced to powder in order to use them in cosmetics, medicine or even in food as a spice, in particular for making curry. Turmeric can also be used as a food colouring and preservative. The active ingredient in turmeric is curcumin.
Medicinal and cosmetic uses
Turmeric has been used for centuries in Ayurvedic medicine (traditional Indian medicine) for its many properties. It is also found in Chinese medicine, and in Western medicine since the 17th century. The main properties attributed to it are its antioxidant and anti-inflammatory effects. Turmeric is also used in herbal medicine. Turmeric is consumed as a spice - in food - as a food supplement - in tablets - or as a herbal tea.
Turmeric, a natural booster
Its anti-inflammatory properties
Among the virtues of turmeric, its recognised anti-inflammatory properties are probably the most talked about. Several studies demonstrate the benefits of turmeric against infections. It is particularly recommended for internal use, to treat inflammatory bowel diseases, such as ulcerative colitis. It can also be taken to relieve conditions such as arthritis or rheumatism, which are also of an inflammatory origin. Finally, when used externally, turmeric can relieve inflammations of the skin such as irritation, minor burns and injuries.
A natural antioxidant
The benefits of turmeric are multiple. The latter contains in particular curcuminoids, which are antioxidants: they neutralise free radicals, and therefore have an effect on cellular ageing. Several studies are also underway to try to establish a link between degenerative Alzheimer's disease and the consumption of turmeric, which could be beneficial in some patients. Likewise, research is active in the field of cancer, in order to find out whether the antioxidant and anti-inflammatory properties of turmeric could play a role in the prevention and treatment of cancer.
Ideal for stimulating natural defences
Turmeric can help the body defend itself against infection, but it also has antioxidant power. This makes it an ideal ingredient for boosting the natural defences, especially at the onset of winter or during a period of fatigue. Turmeric food supplements can be consumed in a preventive setting. Curcumin is believed to have an action on the activity and growth of immune cells, in addition to antiviral and microbial action.
The benefits of turmeric on digestion and intestinal disorders
Aids digestion
Turmeric capsules are particularly recommended to soothe digestive disorders. Along with its role as a gastrointestinal protector, turmeric is recommended for treating dyspepsia, which includes upset stomach, nausea and bloating associated with digestive difficulties. It is used either as a background treatment for recurrent disorders, or to relieve a transient crisis. Turmeric is also recommended for improving biliary function, which can cause abdominal pain. It helps digestion and makes it easier.
Reduces inflammation of the stomach
Curcumin, the active substance in turmeric, has anti-inflammatory effects. It is therefore recommended for inflammations of the stomach, especially when they are linked to digestive disorders, for which turmeric is also recommended. Thus, turmeric can help relieve painful attacks caused by inflammation of the digestive system.
Good for the liver
Turmeric also has a protective role for the liver. It detoxifies and protects the organ. Indeed, by regulating gastric acidity, and therefore the secretion of bile, and by improving its evacuation, it restores a digestive and biliary balance, beneficial to the liver.
The other benefits of turmeric
In addition to the other benefits mentioned above, turmeric is also known to help fight skin problems. Thus, it is recommended for treatment of acne, but also eczema. In particular, it will help the skin to heal better, but also to regulate the rate of sebum production and therefore pimples. Finally, it will give the skin a golden tan, and give it shine!
How to consume it?
Do you have gastric inflammation and want to relieve it with the benefits of turmeric? You can digest it internally, whether as part of a basic treatment, or as a preventive measure, for example before winter to boost the body's defences. When consumed as a powder, the daily dose of turmeric can vary between 1.5 and 3 grams per person. It can be consumed in the form of tablets, or herbal tea. An infusion, on the other hand, requires between 1.5 and 2 g of turmeric to be prepared and diluted in 150 ml of water. For external use, a few grams of turmeric powder mixed with water can be used to make a poultice. Turmeric does not have side effects nor is it harmful to humans. However, it is contraindicated in cases of kidney stones or the obstruction of the bile ducts. Good to know: its effects can be multiplied by taking other active plants at the same time.
Our selection of turmeric food supplements
Turmeric is a plant used in natural medicine. As a dietary supplement, in a thorough treatment, it can help to fight everyday ailments and boost the body, but also to treat temporary discomforts such as poor digestion or heartburn.
The three key points to remember about turmeric:
Turmeric is an Asian plant whose rhizome is eaten, reduced to powder;
It is recognized for its anti-inflammatory and antioxidant properties, although more research is ongoing;
It is particularly recommended for soothing digestive disorders and fighting inflammation.
Regarding the author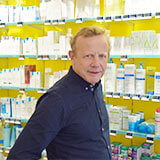 Paul Musset
Doctor in Pharmacy
Certificated of a pharmacy doctorate at Reims University (French University), Paul Musset is passionate by natural medicine and in sport nutrition. He accompanies you in "My well-being and beauty journal" by providing you his health and well-being advices.