BB cream or foundation:
how to finally make the right choice?
Written by Marion, Aesthetician/Cosmetician | published on | updated on 11/08/2022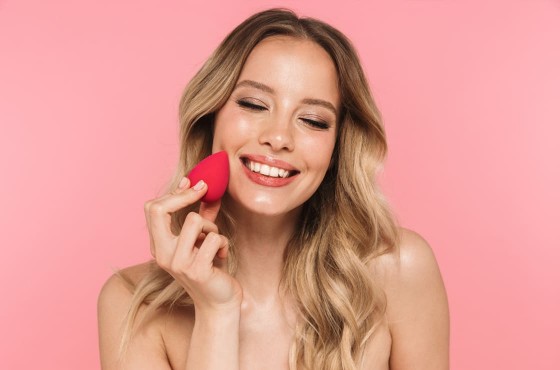 Pimples, dull complexion, redness... You are always on the lookout for the perfect product to hide the little imperfections. During this quest, two key products often wage a merciless battle: foundation and BB cream. What is the difference? How to know who shall be your ally for a perfect complexion?
Find out everything about foundation.
What is a foundation made of?
The goal of a foundation is to unify the surface of the epidermis, by hiding the imperfections and providing a healthy glow. This comes in various forms: fluid, compact or loose powder. For each option, several components play an essential role.
Talc: a very common product while creating foundations. The more this component is present, the more the product has powdery finish;
Silicon: its role is to facilitate the spreading of the product and give your appearance a soft look;
Mica: this substance is in the form of a white powder and its purpose is to reflect light;
Coloring agents: this allows us to offer a wide range of shades.
Advantages
Foundation is a make-up product that has many advantages:
Strong covering power. Due to the different components such as silicone, fluid foundations easily hide redness and pimples. They ensure a proper homogenization of the complexion, along with a smoothing effect;
Long-lasting;
Great versatility: due to the different formats that are available (fluid, compact, loose powder, mixed...), each skin type can easily find the product that best suits the situation;
A wide range of colors which adapts to various skin tones.
Disadvantages
Foundation unfortunately also leads to some disadvantages:
A risk of dryness: with some exceptions, foundations generally have no moisturizing action. They can cause skin dryness more easily;
Applying them is tricky, especially the fluid forms. They require precision to avoid a mask effect.
Foundation: application tips
This make-up product does give the face a nice even complexion, but applying it requires technical mastery. Here are some tips for applying a fluid foundation:
Never apply a foundation to dehydrated skin;
Begin applying at the center of the face by placing a few dots on the forehead, nose and chin;
Stretch the product outwards without adding material.
Our selection of foundations
BB cream: explanations and advise.
What is BB cream?
Unlike the foundation which is a product specific to makeup, BB cream has an additional moisturization function. Moreover, it may also contain active ingredients which make it possible to fight against skin flaws (example: redness).
Advantages
The « Blemish Balm cream » has many assets:
2-in-1: due to its integrated treatment, BB cream offers an additional option compared to foundation;
Application ease: BB cream is applied like a classic treatment;
A natural effect: this colored treatment is lighter and less filled with colored matter. The skin coloring is mainly due to a reaction of pigmented active ingredients when they come into contact with the skin. Thus, it looks a lot like a natural skin tone more easily.
Disadvantages
In terms of the weak points of BB cream, we can quote:
Medium coverage: on skin with imperfections, its light texture does not cover as much as a foundation;
Limited moisturization: although BB cream does include a moisturizer, the latter is not enough to meet the skin's requirements; Applying a moisturizing base is recommended.
BB cream: application advice
Unlike the foundation, which requires precision, BB cream can be applied like a classic cream, in a thin layer.
The history of BB cream
At first, during the 1950s, the only function of BB cream was to promote skin's healing after an operation. At the end of the 1980s, a Korean dermatologist was looking for a solution to camouflage the imperfections caused by peelings on women's skin. This treatment should also ensure good healing, not to mention UV protection. He then transformed the original balm to give it a more tinted option.
Our selection of BB creams
BB cream or foundation: selection aid
Skin type: criteria number 1
If you have skin with many blemishes, it is better to favor a foundation because it will cover better. For oily skin, compact versions are usually recommended.
If you have dry skin, it is better to choose a BB cream, which will avoid intensifying skin dryness.
Application time: criteria number 2
The application time between a foundation and a tinted cream is not similar at all. While the first product requires proper application, all you have to do is spread your BB cream with your fingertips, so that it sets into the skin.
For women who are in a hurry and just want to give their complexion a boost without wasting time, BB cream is made for you. Conversely, if you are looking for a perfect complexion with zero flaws, foundation will better meet your requirements, provided it is applied correctly..
Is it possible to combine the 2 products?
Do you want to benefit from the advantages of both the products: a perfectly even complexion in record time? To stack all the odds on your side, it is rather possible to gain in efficiency by mixing the two products. In which case, dosage is key: one dose of foundation for double the BB cream, and there you go!
Achieving flawless complexion in no time is every woman's dream. Depending on the skin type and the expected effect, foundation and BB cream each have their qualities to offer. Which one will you choose?
The three key points to remember about BB cream or foundation:
Foundation is a make-up product. It aims to unify the complexion and hide imperfections. Its main advantage lies in its covering power. It requires technical mastery so that it's properly applied;
BB cream is a dual-function cosmetic product that hides imperfections while caring for the skin. It is easier to apply compared to a foundation, but its covering power isn't as high;
To make the most of the benefits of the foundation and BB cream, it is possible to combine the use of both the products.
Regarding the author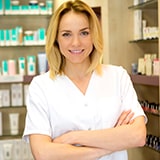 Marion
Aesthetician/Cosmetician
Certificated in Aesthetic/Cosmetic, Marion is specialized in dermo-cosmetics cares and in make-up. Through "My well-being and beauty journal", she helps you to take care of your face and of your body by providing you her beauty advices.