How to use an electric nasal aspirator?
Written by Paul Musset, Doctor in Pharmacy | published on | updated on 23/06/2022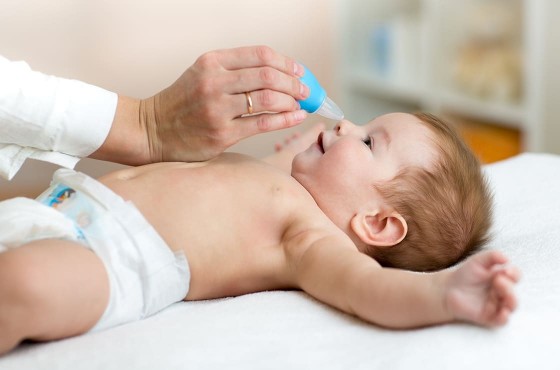 Just like adults, babies can have a stuffed nose too. A good solution to remedy this? Use a nasal aspirator. This very practical device allows you to take care of your child, on a daily basis. Right from the user manual to the various existing models, check out what you need to know about this useful device.
Baby nasal aspirator: the use?
Babies cannot blow their noses. Therefore, we must help them so that they are as comfortable as possible, but also so that they can breathe without any issues.
Bring relief to baby
A baby breathes only through the nose. Therefore, it is all the more essential for it to be clear and that the air circulates as properly as possible, especially when the baby is sick. A baby's nose is lined with a mucous membrane, like all-natural cavities. This lining can trap germs and bacteria, which can lead to various infections and prevent a child from breathing properly. The use of a nasal aspirator will clear this mucous membrane and help the infant to inhale and exhale better.
Different types of baby nasal aspirators
There are several forms of nasal aspirators. There are two manual models: the suction bulb and the manual baby nasal aspirator. But there is also the electric or electronic baby nasal aspirator. The choice is yours and it depends on your preference, but whichever nasal aspirator you shall choose, it will allow you to get rid of nasal secretions for your little ones, so that they can breathe easily.
To be favored when child is sick
If your baby is not sick, cotton and saline will be enough to clear the nose. The nasal aspirator is required when there is a lot of phlegm to release. To recognize when your child is sick, you can keep an eye on for several signs such as fever, restless sleep, loss of appetite or rejecting the pacifier, which prevents them from breathing through their mouth.
How to use a baby nasal aspirator properly?
Suction bulb
If you choose the suction bulb, begin by putting physiological saline in the nostril of the lying down baby, with the head is turned to the side. Then empty the air from the suction bulb, by pressing on it, gently insert its tip into the nostril and release the bulb, so that it sucks up the little phlegm. Empty what you have collected in a sink, then rinse the suction bulb and start the same process again with the second nostril. This devise should be used when your baby's nostrils aren't too stuffed.
Manual baby nasal aspirator
It is composed of a nasal nozzle, a reservoir, a tube tip, a tube, and a mouthpiece. It works through suction and is activated by breathing. To use it, insert the nozzle into your baby's nostril and the mouthpiece into your mouth, then begin to suck in. One recommends to slowly inhale and for a long time, rather than strongly and for a short time. It will be less unpleasant for the child. Repeat the process on the other nostril. A filter cap allows secretions to stay in the reservoir and prevent them from going back into the person's mouth while sucking in.
Our selection of manual nasal aspirators for babies
Electric baby nasal aspirator
This model works in just 5-10 seconds. It looks like an electronic thermometer and works with batteries. First of all, install the mouthpiece - which can be disposable or sterilizable and reusable - into the baby's nose and press the button to activate the pump. The device stops automatically when the cleaning is finished. You can then move onto the second nostril.
Whether you choose a manual or an electric baby nasal aspirator, don't push the tip too deep into your child's nostrils, otherwise you'll irritate their mucous membranes. In addition, don't forget to clean your nasal aspirator properly after using it, in order to get rid of any germs and bacteria that could develop there.
Our selection of electric nasal aspirators for babies
Physiological serum, a key element
Regardless of the device you use to blow your child's nose, you will need to use physiological serum to moisten the nose and make it easier to get rid of secretions. It'll be easier to release these. Be careful if you use individual pods, when you open them make sure that the end is clean so that you don't injure your baby's nose when you insert it.
When should you use a baby nasal aspirator?
You have to adapt the use of the nasal aspirator to your age and the times of the day, so that blowing is effective and not too unpleasant for your child.
Baby under 6 months: 2 times a day max.
Before this age, do not exceed 2 washes in the same day otherwise you'll irritate your baby's fragile nose. Do this only if the baby's nose is runny.
Baby over 6 months
If your baby is over 6 months old, you can clean his nose up to 3 times a day, even if it is not runny.
Preferably before meals
It is also important to choose the right time to clean your baby's nose. It is better to take care of it before eating and not after, otherwise one could trigger spit-ups leading to vomiting. Moreover, favor washing nose after bathing, because the humidity will help thin-out the nasal secretions and loosen them more easily. Their elimination will be much smoother.
Another way to clean a baby's nose
The baby nasal aspirator is mainly recommended in case of strong secretions, when there is a lot to evacuate. You can simple use a physiological serum on a daily basis.
Position your child on his back with his head to the side;
Gently insert the tip of the physiological serum dose into the nostril above it (depending on which side you have turned the baby's head) ;
Gently squeeze the pod to empty out all liquid into the nostril;
Close your baby's mouth so that the serum comes out through the other nostril ;
Let your child swallow;
Wipe the nose with a disposable tissue ;
After a few minutes, turn his head the other way and do the same for the second nostril.
Cotton option
When your baby does not have a cold, a little cleaning with a cotton wick and lightly soaked in physiological serum shall provide him with more comfort every day. You can do so after bathing.
Among the essential care which should be dispensed to your baby, nose washing holds a prominent position. Equip yourself with a baby nasal aspirator to make your life easier but also so the one of your child, so that he can breathe properly.
The three key points to remember about the nasal aspirator:
Always use physiological serum: it is very useful and helps get rid of nasal secretions;
Adapt to your baby's age: depending on his age, your child will need a different number of nose washings per day;
There are several nasal aspirator models: you have a choice, depending on your preference, between manual or electronic devices.
Regarding the author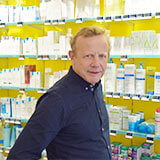 Paul Musset
Doctor in Pharmacy
Certificated of a pharmacy doctorate at Reims University (French University), Paul Musset is passionate by natural medicine and in sport nutrition. He accompanies you in "My well-being and beauty journal" by providing you his health and well-being advices.